Happy new year!
I have no idea since when you guys read my ramblings here. But with a quick search in my past entries, you'll see that at the end of each year, for the past 2 or 3 years, i tried to post some "End of the year thoughts". See here, here.
This time i decided against it. I have more reasons:
All December I had work to do (my main job)
I tried to do/did blogmas (see my recent posts or the link)
I have this entry where i drew a bit of a line for 2020.
For blogmas day 10, we were supposed to talk about the Christmas menu. And I did. And i mentioned that, traditionally, in Romania, people like to make salad à la russe.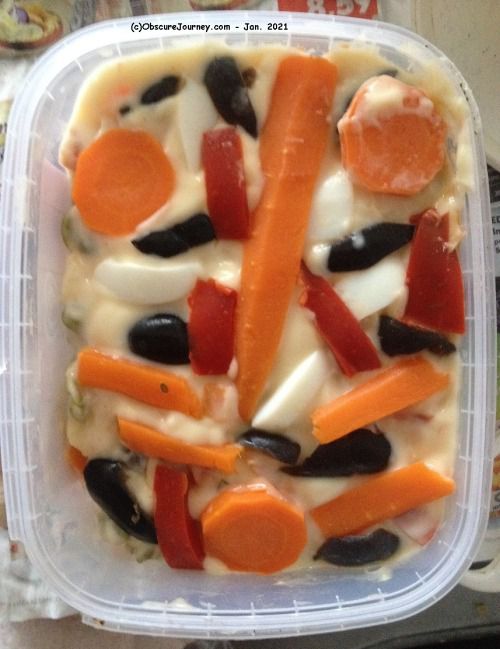 I looked through my shared recipes and i noticed that i haven't shared this one yet, despite having made it quite a few times already.
Well, now's the time to share the recipe!
INGREDIENTS
We wanted to make a lot of salad this time around because we really like it. This wasn't the best idea ever but we did it anyway, so here we go.
We used for the salad:
2.5 kg potatoes
some 4 carrots
4 -5? pickled cucumbers
some salt
1 big jar of peas (already cooked, drained)
egg-whites from 1 or 2 boiled eggs
We decided to make our own mayonnaise, but to also buy some, in case I fail at making the mayo. I remember the first time I made mayonnaise - it was thick, yummy, and I was proud of myself.
Most likely, after that, I was over-confident, as the next other times I made it, it didn't turn out quite the same. Oh, well, we live, practice, and then we become better.
For the mayo I used:
1 egg yolk (from a boiled egg)
1 raw egg -whole
some mustard
some salt
oil (as much as needed)
For decoration: (you can use what you have on hand, these are the most common things you'll see in Romania, on this dish)
black olives - pitted
pickled red peppers
pickled cucumbers
pickled carrots
fresh parsley (not other herbs)
hard-boiled egg(s)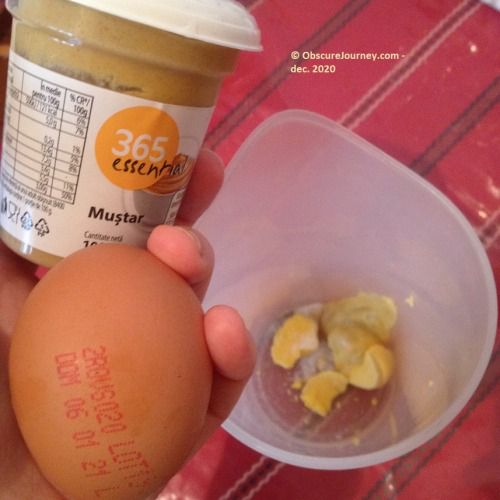 METHOD
For this salad, we have to boil the potatoes and the carrots, then dice them. The dice shouldn't be too small, nor too big. You want the dice to be actually smaller, rather than larger, so that the salad would have a smoother appearance.
If the dice are larger, the salad will look as if you made it with rocks and boulders instead of potatoes.
We decided to boil these 1 day ahead. And as you can see from my pictures, i boiled the potatoes for far too long. They shouldn't crack like that. The potatoes should be cooked, but firm for this salad.
Maybe I should have used red potatoes? I have no idea, but almost every time I try making this dish, I overboil my potatoes and they're far better mashed than diced.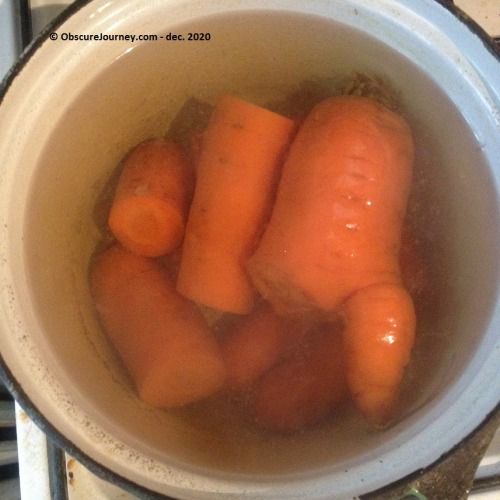 As you can see, I used larger pieces of carrots. I think by weight, the carrots are half the weight of the potatoes, maybe even less than that.
Given the quantities, you'll need a very large bowl in which you'll throw everything for mixing.
I suggest that on the day you want to prepare this, you first make the mayonnaise. If you don't want to make it, you better buy 2 bigger jars of mayo.
To make things better, get the fancier, more expensive brand. It should taste better. The type and taste of the pickles, as well as that of the mayonnaise, are the secrets to this dish.
These 2 ingredients will make or break the taste of the whole thing and will decide if you like it or not.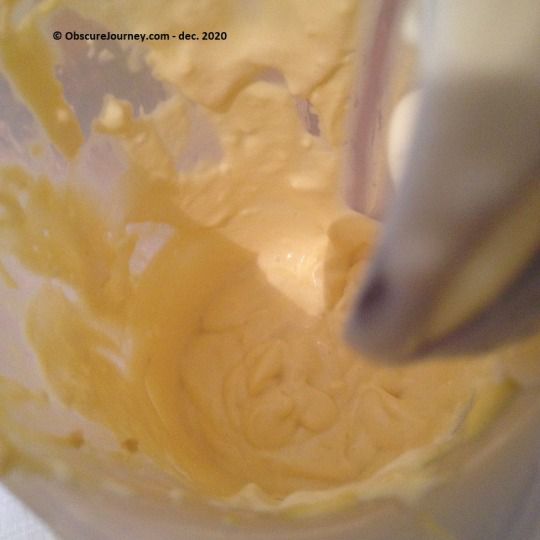 So, to make mayonnaise, you have to mix the hard-boiled egg yolk, the raw egg yolk, some salt, some mustard, with plenty of oil.
The best tool for mixing, I noticed/learned to be the vertical blender part of your mixer. You add the oil bit by bit, and you might also need to add some salt and mustard from time to time.
If you think the mayo looks too thick (almost like cream cheese) you can add the raw egg white as well. Try not to add it all at once as you could ruin the result, or it may take some time for the mayo to re-gain a decently thick consistency (yogurt-like).
Once you figured the mayo out, cover it and put it in the fridge to rest. Now you can start dicing the potatoes, carrots, and pickles.
You throw these in the large pot/container along with the drained peas. For reference, I used the pot in which I boiled the potatoes after cleaning it.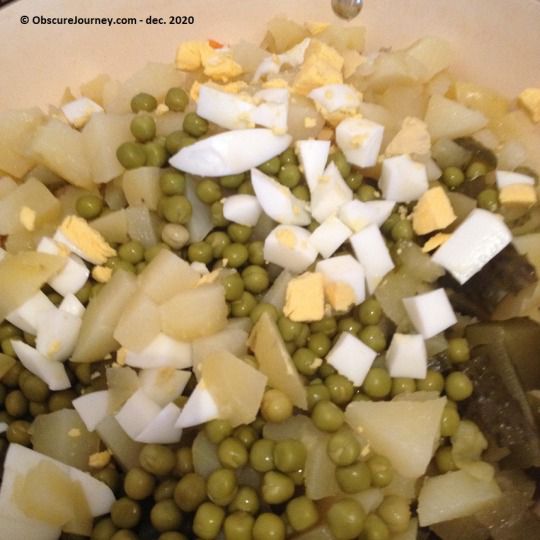 At the end, you can also throw in a hard-boiled egg you diced. This improves the taste of the salad. Don't forget to add some salt in with everything, or this will be a bit sweet and tasteless. This is not something you want.
As you can see, I diced my potatoes in sizes that are a bit too big. They should have been half that size, thus slightly larger than the peas. I also forgot to add the salt. And that's not the only thing i forgot to add.
Now, it's time to add in the mayonnaise and to get your hand dirty. Mixing with a spoon is fine, but I feel I have better control over the mixing process if I use my hand.
Once you're done, you can transfer the salad to other containers or plates, for decoration. I used 2 plates and a big soup bowl - i forgot its name.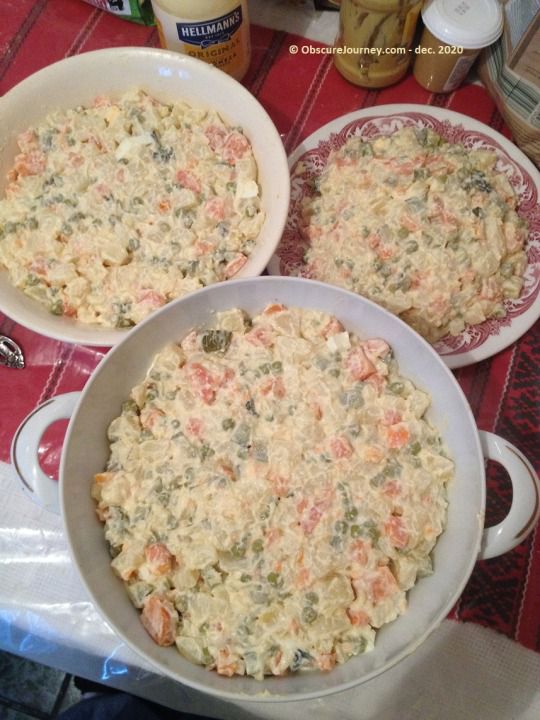 And then, you'll need to use your imagination on decorating these. Nature-inspired decor (like flowers, or the sun) looks the best - somehow it balances out the heaviness of the mayonnaise. Red, orange, and black give it a nice visual contrast.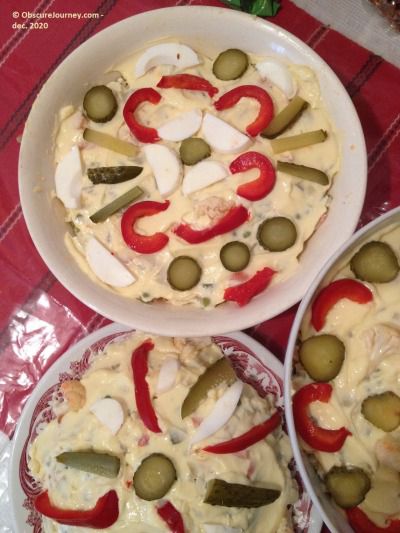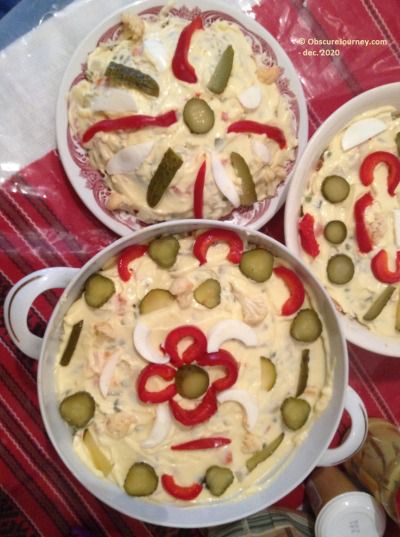 Above, you can see the decor I came up with. I had black olives in the fridge, but i forgot about them at first. I added some after, but i didn't take pictures anymore.
Like i said, this is best eaten the day after you prepare it, so that the flavors mix in a bit more. We eat this usually on its own, but with bread. Extra pickles also work, as there is plenty of mayonnaise to make one nauseous. I think it's served before dishes with meat.
I hope you can give this salad a go and that if you do, you'll enjoy it as much as we do.
Bon Appetit!
© Charly Cross 2013 - present. All rights reserved.