Oriental salad - Romanian version
I haven't posted a recipe in a very long time, i believe. I think it's time I shared something - a salad this time! It's easy to make, pretty good for the upcoming holidays, delicious in my opinion, and is also vegan friendly!
Well, ok, what I'll share is not vegan friendly because I used eggs, BUT keep the eggs out and you can safely enjoy it! If you're wondering why I had to specify this is a Romanian version of the salad, is because Google showed me a different type of salad when I searched for the name of this dish.
I'm not exactly sure what's the story behind this salad, all I know is that it's pretty easy to make, and that it's never enough.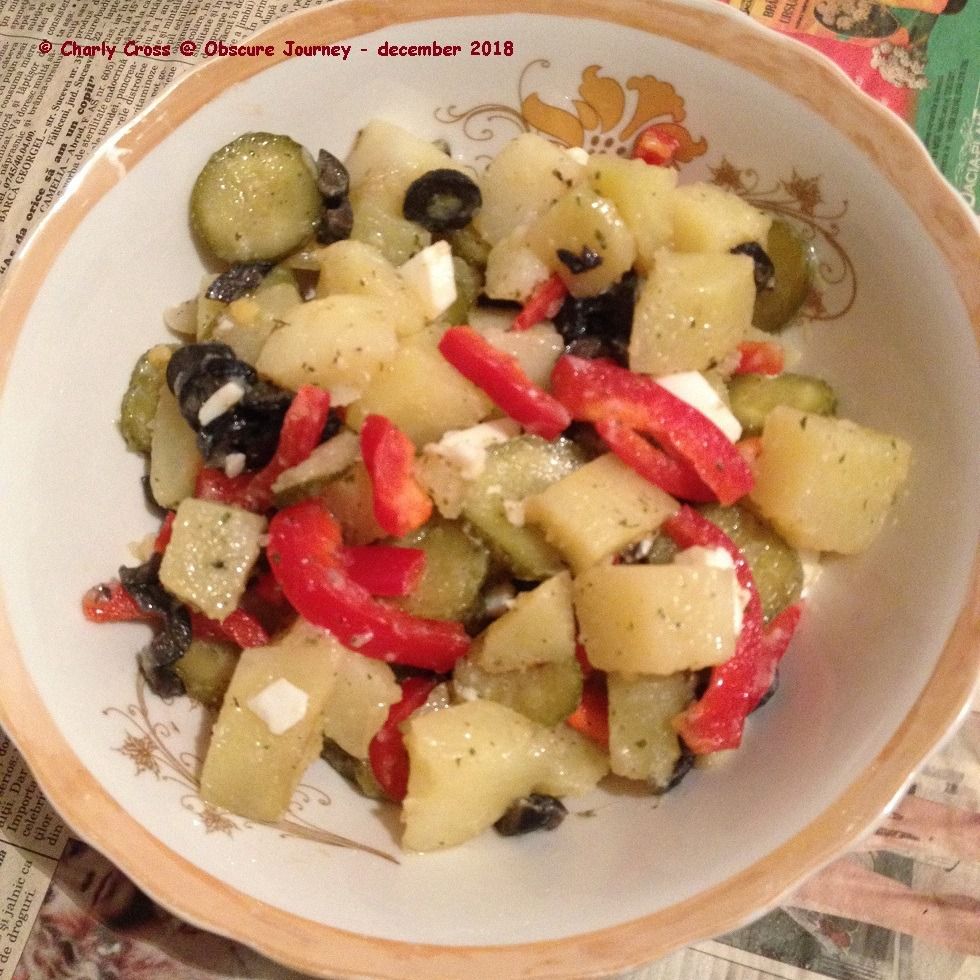 INGREDIENTS:
1 kg potatoes
200 g black olives (for color; use seedless ones)
200 g pickles
1 red bell pepper
2 eggs (you can skip them for a vegan salad)
aromatic herbs - parsley (fresh or dry), dill (i skipped it)
some salt and ground black pepper
oil and vinegar
This is the list of ingredients for a basic salad I found on a Romanian website. I know some people add more stuff in this salad. One of the most common ingredients is sliced onion, but you must know we don't eat it. Other ingredients I noticed were shredded cabbage, raw cucumbers (along the pickled ones), and pickled beet, and the salad becomes a bit pinkish.
Do not add any type of meat in this salad, because then you'll make something else.
METHOD
Start by peeling and dicing the potatoes. Then throw them in a pot with water, and place on medium heat. Don't forget to add some salt - I used some pink salt, not that it really matters, but we were curious. I boiled the potatoes for some 30 minutes, but I don't think I had 1 kg.
The next step is to slice or dice the rest of the ingredients, including the olives and eggs. Don't forget about the other ingredients you want to add.
Next, when the potatoes are done, rinse them with some cold water, and mix them with the ingredients. Of course,don't forget to add oil, vinegar, salt, pepper, and the herbs.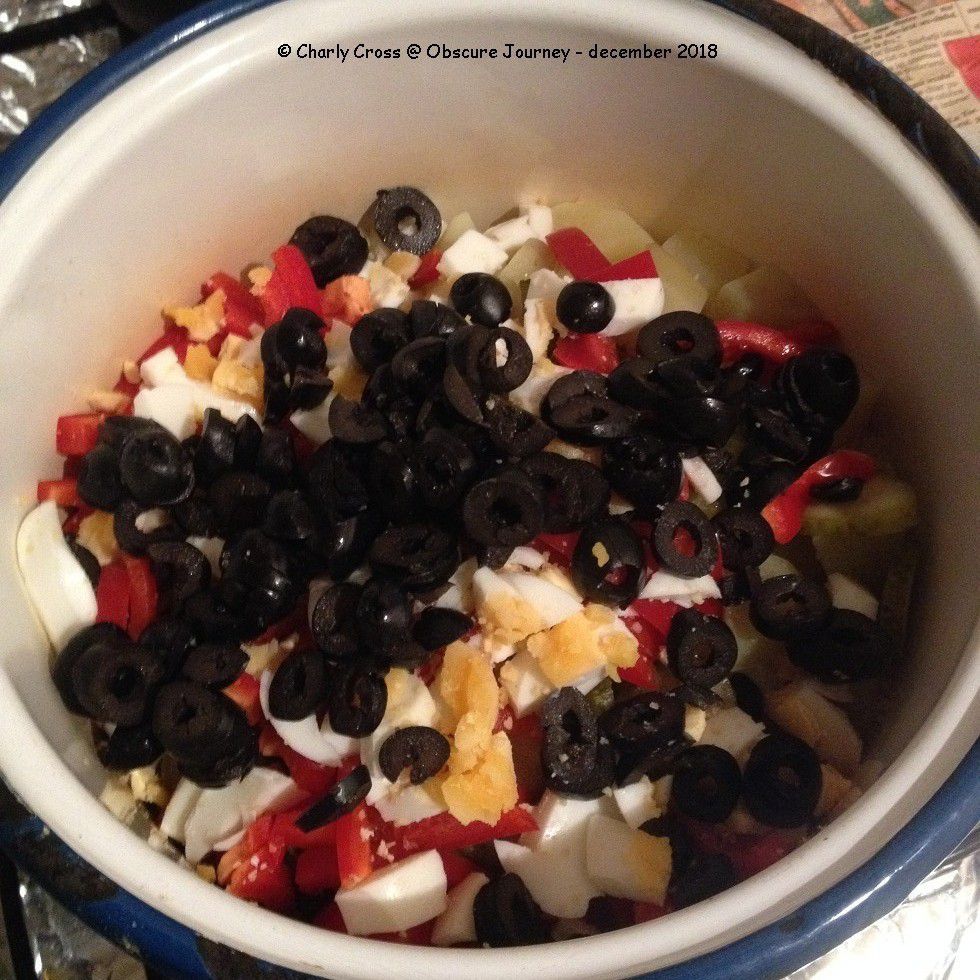 Look at those vibrant colors! This salad is eaten usually by itself or sometimes maybe with steak or chicken. There's no need for bread when eating this dish. You might need to eat other dishes before or after it to feel completely full.
I hope you like it if you make it!
© Charly Cross 2013 - present. All rights reserved.