Hello World!
The title says it all: today i want to show you 3 Romanian cakes. These cakes can be found in any cake shop and even at the supermarket. Or this was my experience so far.
If you ever find yourself in Romania, I think you should try these cakes, but try and make sure you buy them from a cake shop: they taste better there, for some reason, compared to the ones in supermarkets. Ana Pan is where you'll probably find the best tasting cakes, at least in Bucharest.
i should mention that we do have many other types of cakes available, but i'll present the ones that are specific to Romania, and not imported.
Ok, enough rambling: on to the cakes!
Cartof Cake
This is a pretty simple cake, and easy to recognize: it looks like a cocoa ball. It's also covered in cocoa powder and sits prettily on muffin-like baking paper.
Besides cocoa, it also contains raisins, rum, butter, and of course sugar. It has a moist texture on the inside, though it looks dry on the outside.
"Cartof" actually means "potato" in Romanian, so i suppose the cake is meant to look like a potato, but it's just a ball.
You can eat it with a spook or fork, or even directly with your hands, but holding it through the paper it sits on.
I vaguely remember seeing log-like cartof cake. Besides the shape, there's no other difference.
Savarina Cake
This cake is pretty similar to choux-a-la-creme, I guess.
This cake has a pretty big chunk of sponge-like cake as the base. I think it is baked in a muffin shape, given that it has some ridges on the upper part.
As you can see, they partially cut a slice on the upper part which they cover with a red jelly. They then use a huge amount of syrup, and then they add a good dollop of whipped cream.
Unlike the choux cake, this one doesn't have any other cream nor pudding inside.
While it also comes on some paper or cake cardboard, it's best eaten with a teaspoon or fork, off a plate. Some place now sell them in a small but deep enough plastic container, to avoid the syrup leaking everywhere.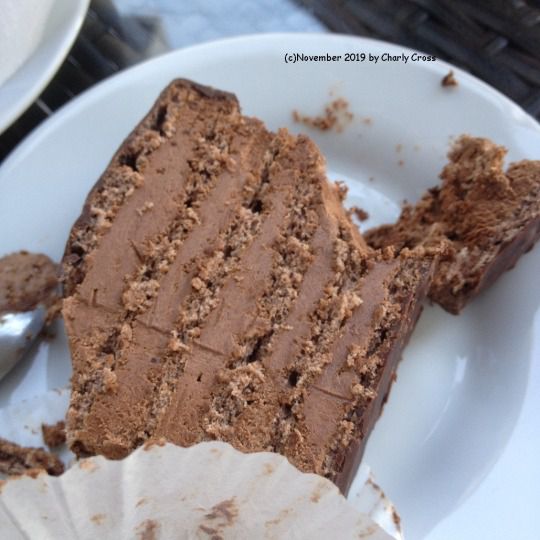 Excelent Cake
This is another chocolate cake. This layered cake has generous amounts of chocolate cream layers.
This chocolate cream is made with butter, and thus it can be quite heavy for the stomach.
It's best using some tool like a fork or teaspoon to eat it, though eating with the hands is also possible. This is because it is also served on that specific cake paper.
The chocolate cream on top and bottom is a different type. The one on top is probably ganache. The slices are about as thick as 2 fingers.
© Charly Cross 2013 - present. All rights reserved.