Blogmas Day 10 - Christmas Menu
Hello all!
So today I'm supposed to plan the menu for Christmas. Except I don't need to because every year we eat the same thing.
See, here in Romania, there are a set-in-stone celebration dishes. Everyone makes the same food. Rarely there's any variation.
One of the first things that need to be made for Christmas, or any other big celebration that is, is the cozonac.
I personally never made one, so I don't have a recipe for it. As type of food, this is a dessert. By the method used to make one, it is a bread. So basically, it's a sweet bread and traditionally it has a filling made of nuts and cocoa. Rum (the alcohol) or rum essence (flavoring) can also be used in the filling.
Of course, nowadays it is very common for city folks to buy one or a few. In the country side, it is still being made the traditional way.
The cozonac found int he city comes in different shapes and flavors, with some of them better than others.
Another dish that cannot be missing from the Christmas table are the sarmale. This dish comes from Turkey and if you know that dish you'll know this one as well.
We have cabbage leaves wrapped around a filling made of rice mixed with meat. Generally, the meat is a mixture of beef and pork. I talked a bit about the filling in this article.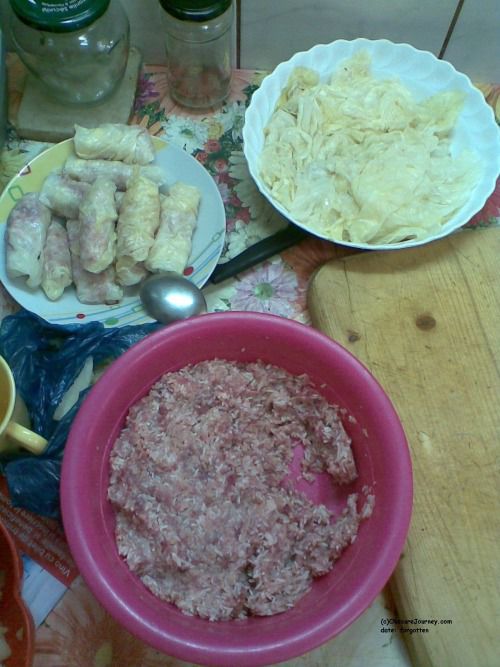 You just have to take about a spoonful of filling mixture and put it on the cabbage leaf, then to roll or pack the whole thing neatly. We'll most likely receive some Sarmale, if everything goes smoothly this year, considering the virus.
Sarmale are labor intensive and this is why they're kept for special occasions. These special occasions can include weddings and funerals, especially in the countryside.
Another dish you'll see is the Oliver's Salad, though it's usually called Boeuf Salad or A la Russe. There's actually a small difference between Boeuf and A la Russe: the former has meat and the latter does not. Otherwise, they look the same and generally have the same ingredients.
The ingredients are boiled potatoes, carrots, peas, pickles, black olives, and mayonnaise. Everything gets chopped and mixed together. It is usually decorated with olives, boiled eggs, and red pickled peppers. This salad i plan on making. I made it before, and i can't believe i have zero pictures as proof, though i had some pretty ones made.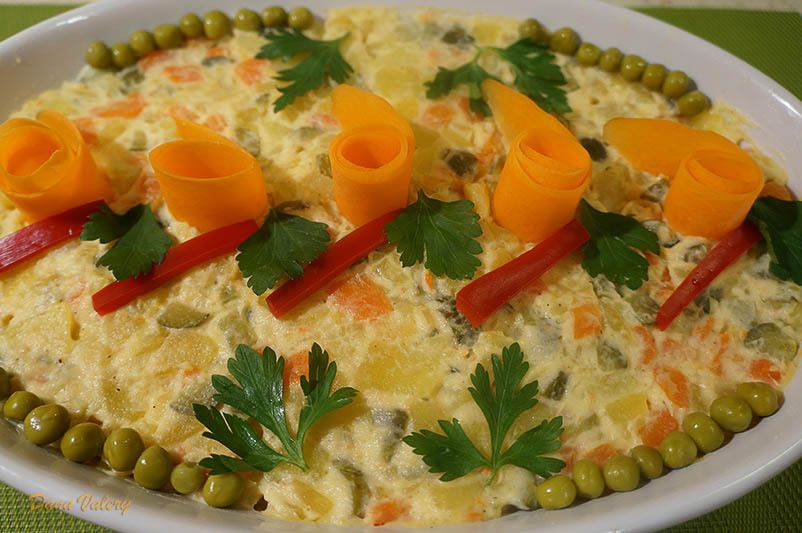 That's what it can look like and the link will take you to a recipe in Romanian. Google Translate can be your friend.
This salad should be made a day or two in advance, so that the flavors mix well. It's definitely a dish that tastes better at least the next day, and it has to be kept in the fridge.
The taste depends greatly on the pickles used as well as on the mayonnaise. It's best to make the mayonnaise at home, from scratch as it tastes better than the one from the store.
Many people would prepare many dishes based on pork, as they butcher a pig a few days before Christmas. The most notable dishes are steak and home-made sausages.
Some people will replace the pork with a roasted chicken or maybe beef.
This is it for now! see you in blogmas day 11!
© Charly Cross 2013 - present. All rights reserved.