Hello World~~~
Happy new year as well!
It's been a long time since I last shared a recipe with you. The last recipe i shared here is from June '21.
In fact, i haven't made this pie in a very long time. This recipe was originally posted on my cooking site/blog in 2014. That's where it all this obscure blogging journey started.
This recipe was first shared in May of 2014, but now i re-share it in mid-winter, aka January 2022.
Sure pies are best enjoyed in autumn with fresh, local fruits. However, I find it a shame not to enjoy an apple pie at any time of the year if you think the apples are affordable enough. Plus, a homemade pie is better than any other sweet, isn't it?
If you want a Romanian apple pie, you might be disappointed. I know I am, unless some relative of somebody I know makes it.
I knew the recipe for some time now, I even tried it out a few times before posting it. Why didn't I share it? To be honest, i have no idea why. my original reply was due to its square shape. This sounds very silly right now.
I'm not sure why many places sell squared apple pie slices, most likely because they bake rectangular pies. I asked my friend to take a picture of a slice of pie, so I can share "my own" picture.
I'll have to make this pie again, to take more and better pictures of it.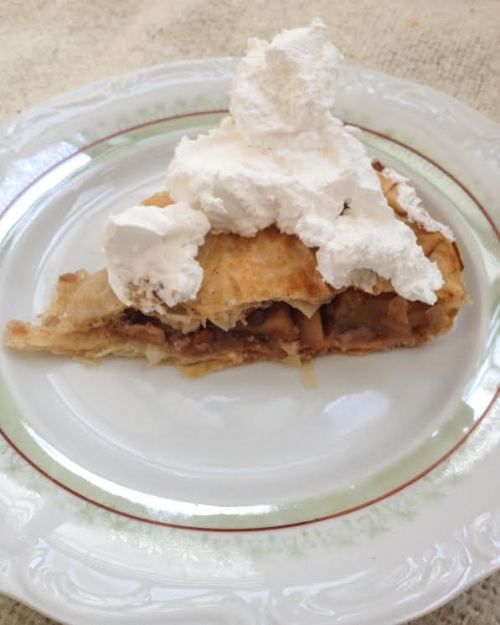 Brown sugar is rather expensive here, and I didn't have it on hand. Maybe I will in the future if anyone will ever want me to cook for them and to pay me. ;) I may have altered the recipe a bit, but in my opinion, it only added to its taste.
INGREDIENTS:
1 Kg apples
150 g caster sugar
1-2 pinches salt
1-2 teaspoon(s) lemon juice
1 spoon of (all-purpose) flour
145 g (1 cup) raisins
some cinnamon
pie sheets (or crust)
1 small to medium egg
EXTRAS
any type of whipped cream
some vanilla sugar
METHOD:
Peel and remove the core from each apple. Slice them. Mix them with the raisins.
Mix the sugar, salt, flour, cinnamon, and lemon juice well. Include some vanilla sugar for more flavor.
Preheat the oven. Prepare your baking tray, however, you are used to. Place the pie sheets or crust onto the tray. Make sure you have some left to cover the top of the pie.
Pour the mixture over the apples, or the apples on top of the mixture. Make sure all slices get well coated with a sugary mixture.
Nicely place the coated fruits on top of the pie crust in the baking tray.
Beat the egg. Pour the egg on top of the pie and spread it well to cover the top using a kitchen brush. Sprinkle some sugar or some more vanilla sugar on top.
Place the pie in the oven and bake for 35 to 40 minutes. I baked mine for some 37 minutes on really low heat. When it's done, remove it from the oven and let it chill. When it's chill enough put it in the fridge till you're ready to serve.
When you serve, decorate with some whipped cream or ice cream, maybe some cinnamon, and whatever else you think might taste good. And, of course, don't forget to slice it up as well.
NOTES:
I use a gas oven, with real fire. The fire was on its lowest, but I preheated it for a longer time than I intended.
I used whipped cream powder that I had to beat with milk. Water is also good, as it makes the cream lighter and less nauseous.
For me, many sweets and foods taste better when they're cold. The pie is one of them.
Bon Appetit!
©Charly Cross 2013 - present. All rights reserved.