"generic" pound cake recipe
Hello world~~~
You might have many great pound cake recipes, and I cannot wait to find more. There are a few ingredients needed, just a few steps, and then, BAM! baking and voila!
I'll give you guys the quantities for a single loaf and the ones for 2 loafs in parenthesis, if you like it and want to try it again ;) This recipe doesn't need baking powder because the eggs and oil make it really fluffy.
INGREDIENTS
4 large eggs (7 medium eggs)
1 cup sugar (2 cups)
5 tablespoons water (7 tablespoons)
5 tablespoons oil (7 tablespoons)
some salt
1 cup flour (1 1/2 cups)
vanilla, lemon, or other flavoring you like
cocoa (if you want it marbled)
METHOD
Pre-heat the oven and prepare your baking tray.
Mousse the eggs whites.
Place the sugar in a pot, pour the water over, and melt the sugar over some heat (like on the stove). Make sure you get a syrup like looking ingredient and that you don't burn it.
Pour the above syrup on the mousse and mix well.
Pour the salt over the egg yolks, mix with a fork, and pour over the meringue above. Mix well.
Add the oil and mix well.
Add the flour and mix well.
Add the flavoring and mix well.
Pour the mix in the tray and bake for some 30 minutes. A toothpick should come out clean if you prick the pound cake in the middle.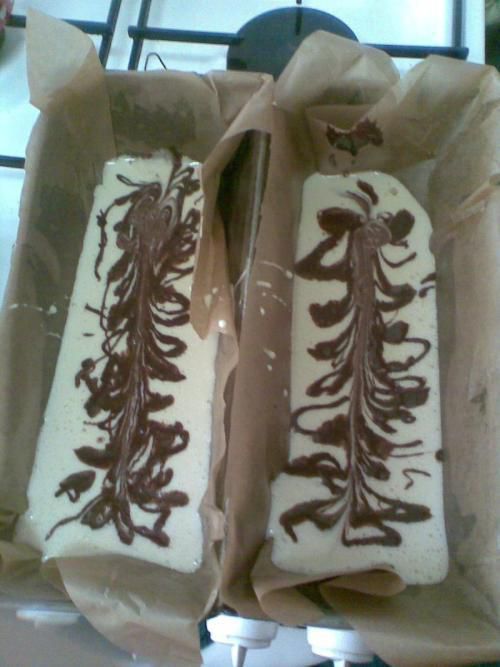 MARBLED CAKE
Follow the steps 1 to 8.
Pour the mix in the tray saving some 2 or 3 tablespoons of batter over which you pour the cocoa. Mix well and then pour on top of the rest of the batter with a left/right motion.
Bake it like above.
the cocoa mixture on the left. use a teaspoon to 'cut' the batter, to have some cocoa IN the pound-cake
You can further decorate your pound cake with any topping you like. You can also add raisins, nuts, or other dried fruits.
Bon Appetit!
© Charly Cross 2013 - present. All rights reserved.