DIY: shirt into pillow case
This week is for another do-it-yourself project presentation. YAY?
Let's learn how to make this pillow case from a shirt! shall we? In the first pic I used a different shirt because i didn't think of the pics I'd use, ahead of time. Plus I realized a bit too late I could make a blog entry about this process, so not all the pics are with the same shirt. I hope it doesn't bother you much.
There's a little backstory for this DIY, so let's start with that. If you're not interested in it, scroll down till you see the first picture. ;)
We received some pre-owned/pre-worn shirts because "they're still in a good condition, maybe they fit you and you can wear them!" As great as this sounds for a minimalist person or someone who's concerned about too much waste and poverty, the reality is that those shirts were obviously worn.
The shirts were in decent condition, but they're yellow on the collars, the fabric is also a bit destroyed because they've been worn too much. Even washed, these garments are nowhere near to be worn again, not even indoors. See first picture, here below.
I didn't throw them away because I thought I could do something out of them. I first thought of cleaning rags, but the fabric is not quite the right type, but more of a bed sheet type. And then it hit me that I needed more pillow cases - stitching together pieces of fabric to make a sheet is too much even for me.
Things I used:
an existing pillow case
scissors
sewing needle and thread
clothes iron
measuring tape (not really used in the end)
pencil
extra needles
The first step is to make sure the garment doesn't have holes and clear of wrinkles, hence the clothes iron. If it has holes, either patch them up or give up the garment. My shirts don't have holes, so I checked to see if they're big enough to make a case. They're mostly men's shirts, so there's enough fabric - see below.
If you align the old pillow case to one of the side sewings of the shirt you'll save yourself some time as you'll only have 3 more sides to sew together. Make sure to turn the shirt inside out to have it ironed (not even designers work with wrinkled fabric), and buttoned up.
In my opinion, the bottom hem is the easiest to start with, especially if it's a straight one. But you could align the shoulders in place, pin the case to the shirt and start sewing all around it.
I sew by hand, and this means I needed more visual guidelines and this is where the pencil proved useful as I drew around my pillow case, on the shirt. Depending on the type of lead, it will be really easy to draw on fabric. My pencil is a Staedtler norica 132 46 HB 2 if it's of any help.
Sewing all sides with the pillow case still attached to the shirt will save you some time. This is especially true if you have a sewing machine [unlike me]. Well, it will save some time when sewing by hand as well.
Now supposedly you sew all the sides of the pillow case. It's time you cut all the excess fabric. Once all the extra fabric is removed, you will have something that looks a lot like a pillow case. See below how mine turned out. I must say I'm pretty proud of myself.
I purposely left the buttons of the shirt on to save me time and effort. This way I don't have to sew other buttons, nor a zipper. The pillow case looks a bit old fashioned, but I find it really pretty.
This was my first time completing such a project, and sewing it by hand along with having other projects going on, made this DIY unnecessarily long. I think that with a sewing machine this would be a 30 minutes (tops) project.
Of course, I leave the project for 5 minutes, and I return to see this (below). If you have kids, cats, dogs, any other pets, make sure they don't have access to the needles if you need a short break from your sewing or whatever you're doing. You may know this, but while it looks cute in photos and in real life, such a situation can be dangerous - luckily my boy wasn't sitting on the one I was working on.
PS: Sometimes, after you finish your first project, you may realize that placing the pillow case in a different position on the shirt, it could make your job even more easy. In my case, I placed the existing pillowcase in "landscape" position while the shirt was in "portrait" mode. Like this, I only had to sew 2 sides only, saving me even more time. See the pic below for a better understanding.
The resulting is not much different than the first one I made, so I didn't think another image would be needed.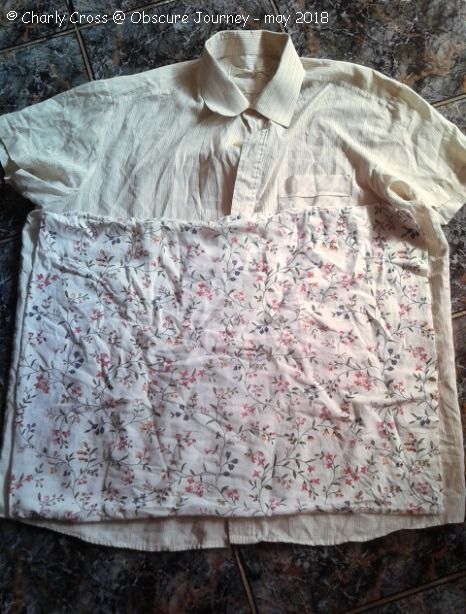 © Charly Cross 2013 - present. All rights reserved.