Expectation VS Reality - DIY edition
Hello there!
Did you expect to see me? neither did I.
Do you know how people order things online hoping they'll receive something cool, something they think will look good, will make them feel better, and so on and so forth?
I have done that. But i didn't expect things to be THAT amazing, to begin with. You can read more about that experience in this entry.
So this entry is not about my expectations being ruined by a bad online shopping spree. Instead, I want to talk about a DIY project a did over the past 2 or 3 weeks. Well, i finished it last week.
I didn't plan on writing about it. However I shared it to this FB group and 87 people liked it and congratulated me for the result.
The story goes something like this:
When the stores finally opened back at the beginning of summer, fiance bought a small white Guess bag from an outlet.
It was in a decent shape, with the only flaws being the several visible stains. On both sides. Unfortunately i don't have a picture of the bag :(
I thought we can clean it. [FIRST EXPECTATION!]
[FIRST REALITY] hit when after several attempts, and several products, we realized that taking those stains out won't work.
The DIY project begins!
THE SOLUTION TO THE PROBLEM
The solution we came up with, was to paint the bag. At least on the front.
This was a pretty easy idea to put into practice. All i needed was:
acrylic paints - done!
paintbrushes - done!
inspiration
The inspiration came from a google image search. I searched for "an easy acrylic painting" or something along that line.
And I found this picture: [EXPECTATION 2]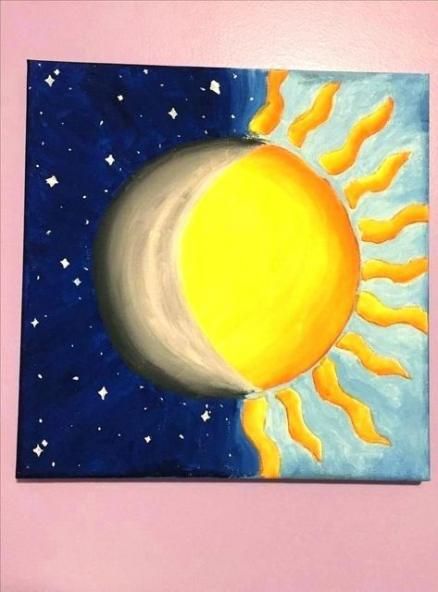 I thought it's a decently easy image to reproduce. So i started working.
First, i used a pencil to draw the circle in the middle, and 2 vertical lines in the middle to "split" the background into the night/day halves. I also drew the curved line for the crescent moon and the "flames" around the sun.
This part was THE easiest to complete.
I then started painting and i used the lightest colors first.
I don't have much to say about the painting process. I tried to make sure i don't leave white spots as the surface of the bag is textured, not smooth, as you'll see from the pics below.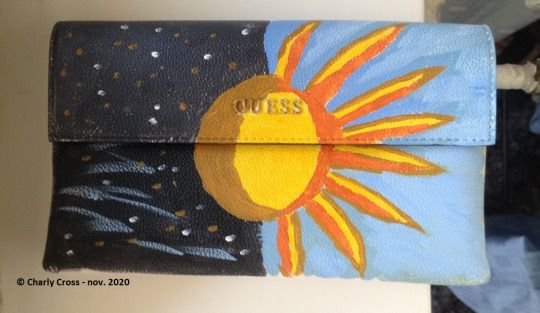 So, this is what I got. [REALITY 2] it's not AS pretty as the inspiration photo, but it's alright. I think.
And when you open it, you get almost the same image. I didn't want the image to be split or incomplete when open. I also have the impression it looks more "intended this way by the designer" and not "oh, I painted this and did the shittiest job."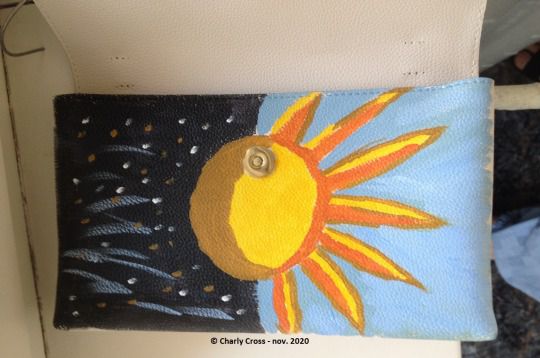 It had 2 loops for a shoulder chain. My fiance said they'll use it more like a wallet than a purse, therefore, I thought that keeping the chain would be in the way, in a bag.
I hope this entry inspires you to find a solution when your favorite bag gets dirty and you can't clean it, and you also don't want to get rid of it.
I didn't use a sealant, but I should, and I'll be looking for some sort of sealant. The light blue side is a bit sticky to the touch even though so much time passed since I finished this project. So, if you do this, make sure to use a sealant.
See you in the next one!
© Charly Cross 2013 - present. All rights reserved.