Do I read the tarot?
With me having several entries posted on how to read the tarot, some of you might think that I do readings.
The truth is a bit more complicated than a simple yes or no. Let me explain more.
DISCLAIMER: Bear in mind that the links in this post are affiliate links and if you go through them to make a purchase I will earn a commission. I used these affiliate links to give you the option to check the book out, for yourself, if you so wish, through a well trusted seller. While I will be very glad if you decide to buy this deck, the decision to do so or not, belongs to you. Thank you for reading!
I recently re-discovered G-d. Praying has given me peace of mind, and I wouldn't change this for anything in the world.
You need to know that G-d sees witches and fortune-tellers as abominations. It's not my place to say this is true or not. I do think that perhaps the truth lies somewhere in between science and religion, in between things that are allowed and not allowed, possible and impossible. But in this earthly existence, we're not supposed to challenge the commandments we've been given.
Somewhere in the Bible, I don't fully know my Bible to tell you exactly where to look, but Google sure can help, it is said that a fallen angel taught humans how to divinate and other such practices. This maddened G-d our Lord, and the punishment of that fallen angel will be shared by sorcerers and the like.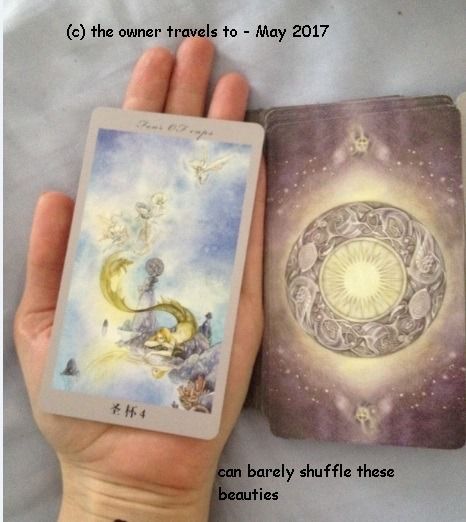 I'm not here to tell anyone how to live their life, and I'm not casting stones either, so you do whatever you think is right for you.
As for me, I see the tarot as a game. If I ask a question and I pull a card, it doesn't mean I'll believe it - it anyways tells me or points out something I already knew, it can't tell me anything new or that I didn't know already. It's impossible.
If you are to read what other divinators say, you'll see they warn 'novices' about this 'risk', or better said reality.
"A" did a reading for a girl online. The cards showed things she already knew about that girl. I'm sure the girl already knew the answers she's going to get ... she's just not ready to act the way she should to get what she desires.
My warning is "don't do it. at all." I don't read the tarot. not as a fortune teller [though i think i could make some money out of it, but profiting off innocent souls for a material thing is in my opinion even worse than being an abomination in the eyes of my Lord.]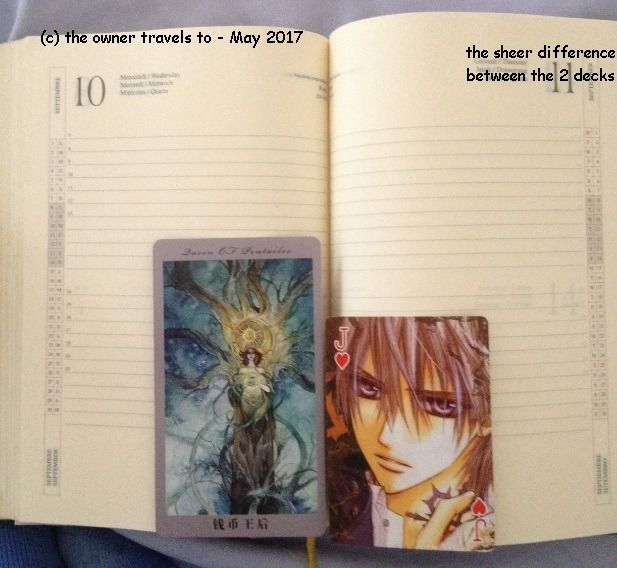 For these reasons - my thoughts were all over the place, as I typed this as I was thinking it - I'm not reading the tarot. This is the deck i own, if you want to also check it out.
I will keep the deck because as you can see it has beautiful pictures and colors. I will keep posting guides to how you can interpret the cards, but more rarely. I have no real reason or motivation to help others ruin their relationship with G-d.
I'll keep doing this because I need help with "reading between the lines", improving my imagination and self expression - how many ways are there to say the same thing, I wonder? It's good practice for my writing skills.
[and i'm aware this too is a motivation from the Devil :( ] and to be honest, i don't see much difference between a tarot deck of cards and a deck of playing cards - just different images, and both can be used for the same purposes.
© Charly Cross 2013 - present. All rights reserved.