Christmas is here ... again!
Today, as I type this, is Friday (1 week before Christmas. but I finished the blog entry on the 24th - call me lazy). I decided that today I'd decorate our "Christmas tree." Well, we don't have a proper tree, just the one my partner bought last year.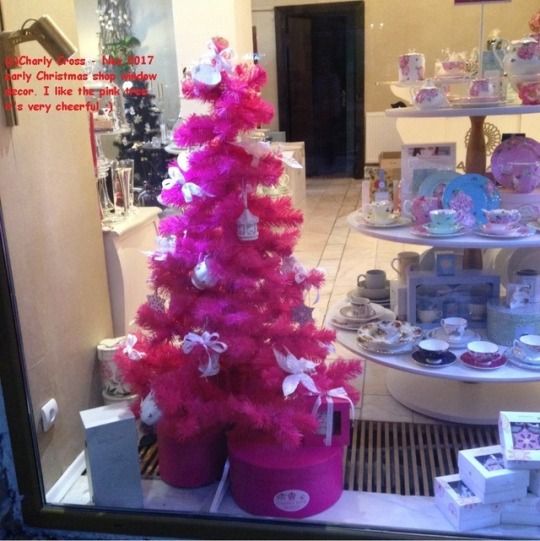 I was a bit sad that we don't have any Christmas lights nor decorations, nothing. :( and I was storming my brains for ideas of how to make something more Christmas-y without spending too much money [because we need it for 1001 other things]. And all of a sudden the idea popped! :D
All I had to do was to find an alternative to all the decorations. I first came up with the idea to put under it a few items we haven't opened yet, even though we knew what they were - some nice tea, an orange, an unused candle, a pair of Christmas socks my partner got as a gift, and 2 pine cones.
And then, I remembered I had these blue plastic beads from a necklace that broke. I thought I could paint them red or golden and then hang them on the branches.
The only thing I could use to paint these beads was some nail polish ... except it didn't work as planned.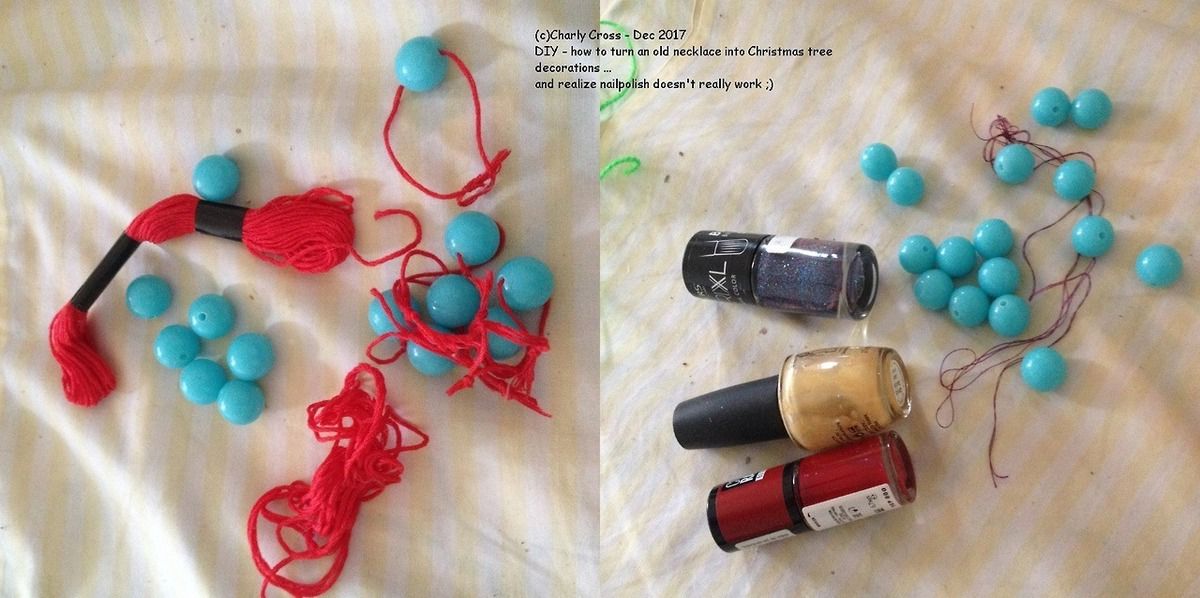 As a result, I decided to just leave them as they were. Then I proceeded to place each bead on some piece of string and hang them on the tree. I thought at first it would be nice to use the same string color for all the beads, but then I changed my mind.
I also used some extra string I had to wrap it around the tree like some sort of tinsel. I also used some other old jewelry - a shiny bracelet, another blue necklace, and a silver heart locket [in the back, barely seen in the picture]. The decor is 'original' I think, it's something that anyone can do, I believe, regardless of their budget and skills.
And because we got into the Christmas spirit - at least a bit, we decided to take a walk and go see the Christmas Market set up in the square in front on the infamous Palace of the Parliament.
The boulevard got decorated for Christmas. The decorations are nicer from the Unirii Square towards the Palace. See the images below.
The market has a big tree - that can actually be seen from downstairs, a stage, a nativity scene - the animals were even animated with sounds at least, there was a merry-go-round but just for kids, as well as an ice skating rink that was still designed for kids and children, but parents were skating with those that were too young.
If you know how Christmas markets work, you probably know what to expect when you get in. There are stalls with food, drinks, clothes, traditional crafts, and several sellers with almost identical merchandise. But that's OK because you have options - if you don't like the person selling, right?
These were the stuff we liked the most at this year's Christmas Market. I wish you a Merry Christmas [and if you don't celebrate it, Happy Holidays]! I hope you can be surrounded by your loved ones and that good luck and health will always be by your side!
Do you have a Christmas Market in your city or in your country? If Christmas is not a thing for you, please share some traditional stuff from where you are, even if they happen at other times of the year!
---
© Charly Cross 2013 - present. All rights reserved.