L'Ange du Mal
He couldn't remember how much time past since he fell under the curse, for it was a curse for him, despite the humans calling it a spell. However he couldn't break free from it no matter how much he tried.
He wasn't even sure what it was for he usually controlled all spells and curses, as well as everything else humans considered to be supernatural.
He felt very much alive, but he couldn't move, s peak and everyone saw him as a statue. People weren't supposed to look at him and especially women. They thought that those who stared at it would rebel against their family. Mostly because it happened before. The men didn't want to lose their control over the women, their property. It was inconceivable!
L'Ange du Mal got trapped because of a trick a girl from the village played on him. Since then he could not stop thinking about her and he never forgave her either. After the trick, she would stop by to see him every now and then. But now it's been such a long time since he hadn't seen her.
The men who wanted him trapped would also come at regular intervals, helping him keep track of time. Of course it would be easier if he counted the days, but counting the time of his imprisonment was only infuriating.
Every time he saw those people, they would look older and older, weaker and weaker. Despite all this, the curse would continue to be strong. Then, one by one, they stopped coming. He seemed to have forgotten humans are short lived, unlike him. He had no need for water nor food, and yet he was still alive.
The group that cursed him was bringing new faces and blood from time to time. And even these youngsters would change appearance in time and would become weak and then stopped coming as well. Slowly, the people visiting him were fewer and fewer. Then they completely stopped.
At a certain point only kids would come, however their behavior was very different than that of his captures. They were also quite weak despite their young age. They acted as if they had no idea about his true nature. He felt as if he could break them with the touch of a finger. But nobody ever touched him.
If he could move. All he wanted was to move. But not one single muscle or feather from his long black wings would listen to his command.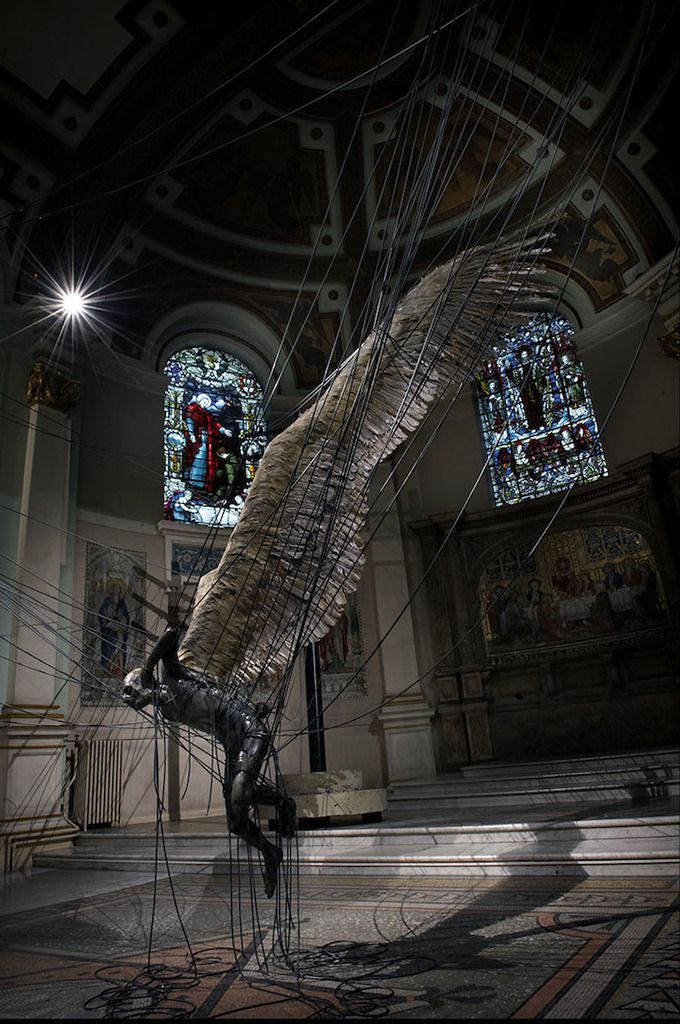 "Lucifer (Morningstar)" by Paul Fryer. picture belongs to its author. found on roadtrippers.com - link below
Story/chapter inspired by the "Lucifer (Morningstar)" statue by Paul Fryer and found in the Holy Trinity Church in Marylebone, Westminster. Read more about the statue here.
© Charly Cross 2013 - present. All rights reserved.