Snowy January in Bucharest
It is March already, oops. wanted to post this at least in February, but if you read back my posts, you know why this didn't happen.
So, December, as you might already know, was super cold. But we had no snow. Snow came in January..
I took this picture at night and the only edits I used was cropping and the writing on it. I can use the #nofilter hashtag too. That night we were watching a Korean horror movie. I must say the movie was pretty good. However, at a certain moment I was wondering why is there so much light, even though it was about 3 am.. The answer was rather shocking for me: it was snowing like crazy. The snowstorm continued for a day or two, I believe. In any case, this wasn't the first snow of the year, but the first snow wasn't as ferocious, so to say.
Here are some pictures I randomly found on my computer. They are taken last year, still in January. There isn't much difference if you ask me.
I really wanted to build a snowman. this year. I never got around to. Somebody else build the one you see below. Too bad the wind blew its hat off, as you'd better see the mop as hair. Like thi, we see the hairstyle is specific to the 1990s era (any Backstreet Boys fans out there?).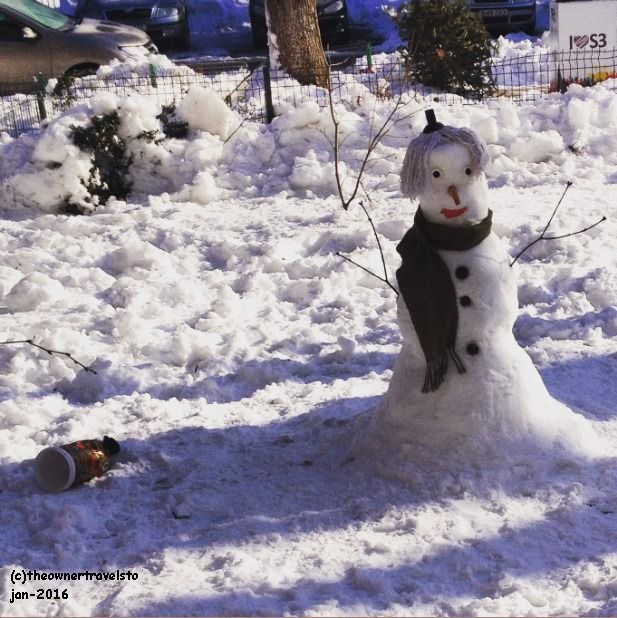 In any case, the snow didn't last very long. The video below will show you what the snow looked like after a few days. The worst part was the ice that formed like magic, as if hoping we would fall and break our feet. Luckily this didn't happen to anyone I know. I recorded the last part of the video at night, and it seems the light was worse than I thought.
[disclaimer] I didn't record these videos after the same snowfall. We had about 3 in total, this year. I just edited them in the same video to make it easier on myself. I also don't remember which of my smartphones I used to record.
I recorded this video in January 2016. I always wanted to post it on my blog, but I don't think I did. In any case, this is what it looks like to walk in snow, in Bucharest. because the mayor of the city doesn't care to send people in the streets to remove the snow.
At a certain moment in January [of this year], me and my friend were walking downtown. I forgot why I decided to do that. Perhaps I just felt the need to move, to feel more active. In any case at a certain moment we came across this stand with bikes for rent. I didn't go too close to have a better look, to see how the system works, however I thought it was pretty neat to have this in Bucharest. You can also see the snow, and the lights from the bike stand and bikes themselves looked quite nice as well.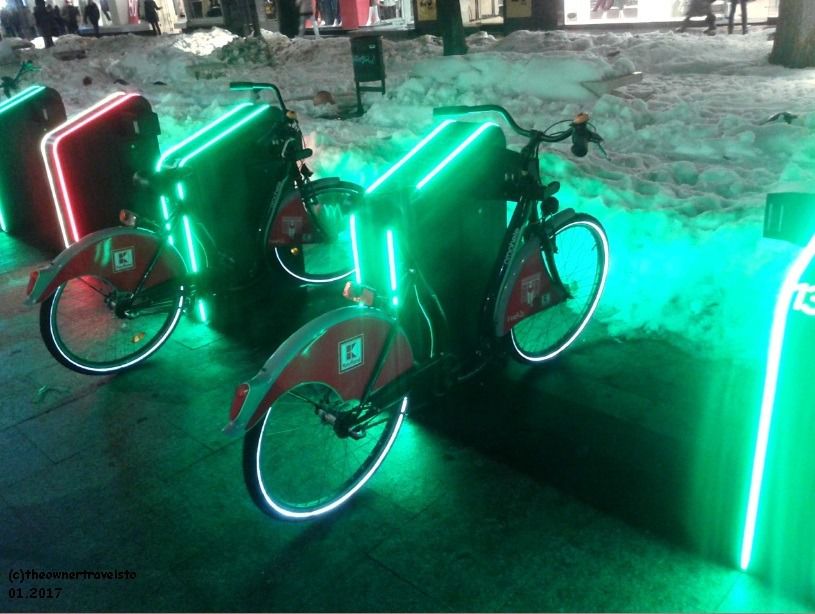 On a different evening, I asked my friend to go out somewhere. We went in the Old Town area - it's filled with cafés, restaurants, and bars. I have no idea how we stumbled across a sorta steampunk looking café, that seemed to want to take us back in time.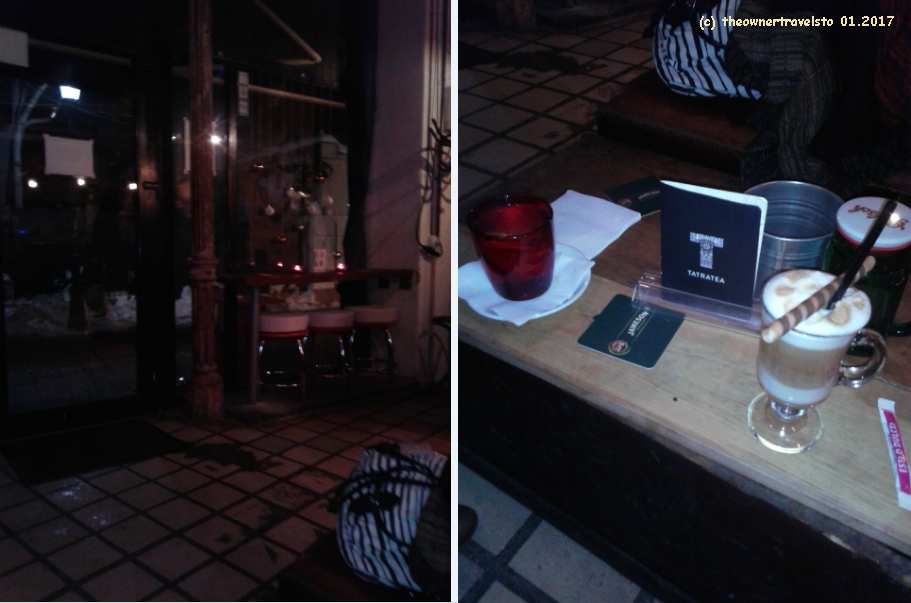 Sadly, the lights weren't too good, and we couldn't take much or better pictures. I had a hot tea and my friend had a café latte. Or this is what I remember it being. We weren't impressed much with the drinks, but we promised we would go again. We have yet to go again. I believe the owner of the place was the bartender there (for now at least).
© Charly Cross 2013 - present. All rights reserved. edited in March 2018 after renaming my blog and finally deciding on an author name.