My Crafting Books
Hi all!
I think it's time for me to talk to you a bit about the books I own that help me with sewing or crafting stuff in general.
DISCLAIMER: Bear in mind that some of the links in this post are affiliate links and if you go through them to make a purchase I will earn a commission. I used these affiliate links to give you the option to check the book out, for yourself, if you so wish, through a well-trusted seller. While I will be very glad if you buy any of the linked items, the decision to do so or not, belongs to you. Thank you for reading!
I own books, magazines, and some leaflets. I will talk about a few of them in more detail than about others. I'll also mention which are the ones with more interesting projects and stuff.
Gotta mention that I didn't read them all. I didn't have enough time to do so. At least not yet. Plus, some of them are not really for reading as they have just projects and how to do them.
Most of these books are in Romanian, and I'll put them last. or after the ones in English.
I have also 3 books that are more useful for those interested in fashion per se. I managed to read 1 of them, and about half of each of the other 2.
My Fashion Related Books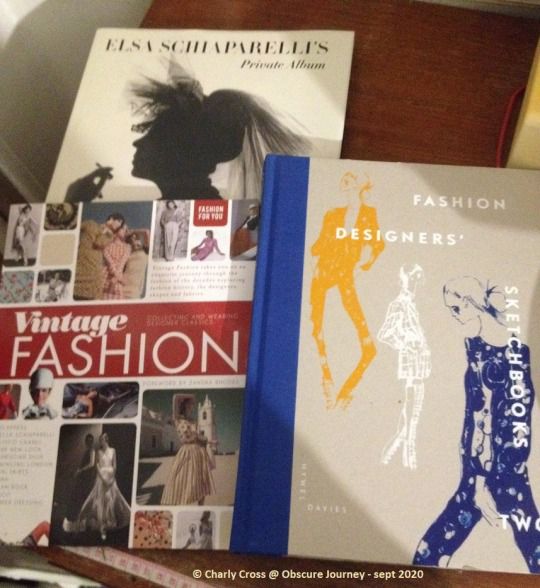 These are my fashion related books. More fit for a coffee table, i suppose? But I don't have a coffee table, so they'll live with my craft books.
Elsa Schiaparelli's Private Album -affiliate link-
Vintage Fashion -affiliate link-
Fashion Designer's sketchbooks (2) -affiliate link-
One is about vintage fashion through the 20th century, one is about fashion designer Elsa Schiaparelli, and the other one talks about the process used by fashion designers to create their clothes.
The book on vintage fashion is interesting for those who like or want to dress in the style of a decade of the past century. You get to discover designers, the silhouette promoted at the time, along with some historical context.
It is through this book that I got an interest in Elsa Schiaparelli, and I was pretty excited to buy her Private Album book. I will talk a it about this book on my Obscure Reviews site, and I'll add a link here when that happens.
To learn more about the creative process in the Fashion Designer's Workbook, there is a little interview with the featured designers as well as a little presentation of their sketches and a few of the finished look. I have to mention this is the 2nd volume.
Various Crafting Books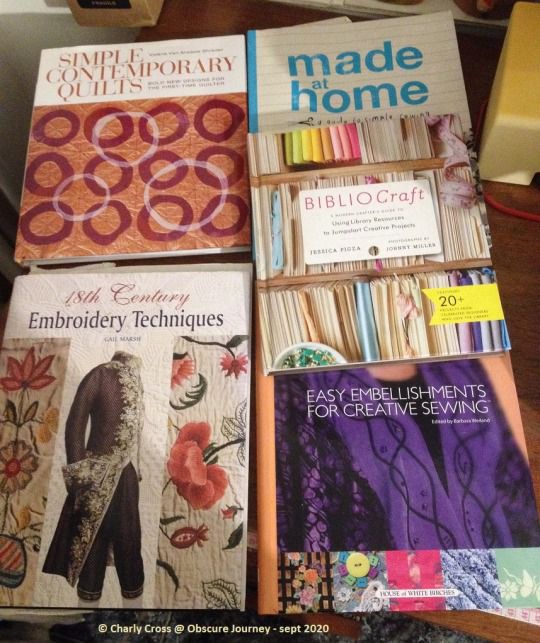 Here are 5 crafting books:
From this list, I read half of the 2nd and the 3rd. I also read a bit of the first. If you're interested in reading a bit more about the "made at home" craft book, I have a review on my Obscure Reviews site.
What can I say about these books is that they give a bit of introduction to present the book. They also give plenty of rather easy projects you can do, with step by step instructions.
On top of this, you also get to see the final result. The made at home, Contemporary Quilts, and biblioCraft are books mostly for making home decor items. Or items you can use around the house, such as tea towels, pillow covers, quilts, and more.
The Easy Embelishments book shows projects that you can do for your clothes. If you need some ideas or a bit of guidance for upcycling this book can be useful. This is all I can remember from it from just browsing and looking at the pictures, as I didn't read it.
The book on 18th Century embroidery techniques is quite interesting. It talks about methods, shows pictures of embroidery done at the time, where can it be seen, and more.
Expect a review of this book on my site, at some point, and this post updated when that happens, because I am reading it, as I already mentioned.
Romanian Crafting Books
There are quite a bit of crafting books in Romanian, that I own. About 4 of them are specifically with traditional embroidery or cross-stitching designs. One is about crocheting and making these interesting lace doilies. Though you can use them for whatever other purpose. You can see an example in this Instagram post i made last year.
Two or 3 of the books explain how to make your own patterns for various types of clothing. They rather lack explaining how to place the pattern on the fabric, which is the preferred sewing order, and so on. I think they were aimed at more experienced dressmakers and not beginners.
I used one of these books to make a/the pattern for an ankle-long cape. If you're interested in a post related to how that went, I'll be happy to talk about it.
These books are from the 1970s and 1980s. The one on top, called Almanah Femeia is a booklet or a tiny magazine. It features knitting, crocheting, and embroidery work.
The tiny book in the right upper corner is where I found the design I used on my jeans jacket. And if you have no idea what I'm talking about, last year i embroidered my jeans jacket. And I talked about it in this entry.
The same book also had the design you can see on the big doily in this IG post from last year. And here you can see it being worked on.
Here you can see some work in progress on a bookmark with a design from the yellow book. And here is the final result.
Burda Magazines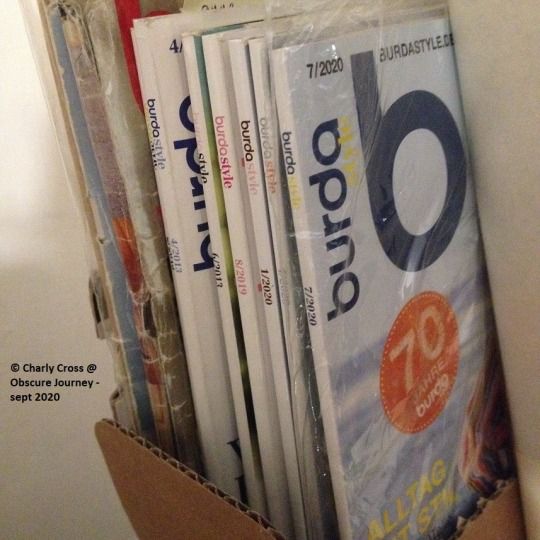 There's not much to see here. I bought the most recent issues starting with August 2019. The older issues I found next to the trash. The oldest issue is from 1996. One issue is in Hungarian, and that's the only one I can't read. But if I get more experience in dress-making, I won't need instructions. The others are in German with Romanian translations (in an insert). The translations are only for the sewing instructions, not for the few of the extra articles.
I also don't have much to say about these magazines, except that the issues became slimmer and slimmer. In the 1990s, they featured recipes as well, and some crosswords which allowed you to enter contests and win things. Then, they also featured pictures from the readers, with the clothes they made with the help of Burda.
I didn't include the leaflets in here. I may make a separate post for them as they're printed on newspaper paper, and they got old and fragile. I'm keeping them safe. For now.
© Charly Cross 2013 - present. All rights reserved.