Making Victorian-inspired pantaloons - Sewing with a vintage Burda
Hello.
In November I had some time to make something and to even finish it. YAY!
Disclaimer: Well, I'm not sure they're really called "pantaloons" but this is what I'll call them in this article. I say they're Victorian-inspired because they have frills and lace.
INSPIRATION
My inspiration came from 2 places if I can call them that.
The first place is Subeta's (that is a referral link to this online pet and dress-up game) Magical Pirate Pantaloons of Sweet Love - you can see them here (This is a fan-made and helpful site for those playing Subeta).
The above image belongs to Subeta - used for informational purposes.
The second place is Bernadette Banner's video in which she makes a pair of Victorian underwear or combinations. You can watch the video here. She uses historically accurate fabrics and methods, including or especially hand-sewing.
The end result is closer to the Pantaloons of Sweet Love mentioned above, as you'll see from the pictures.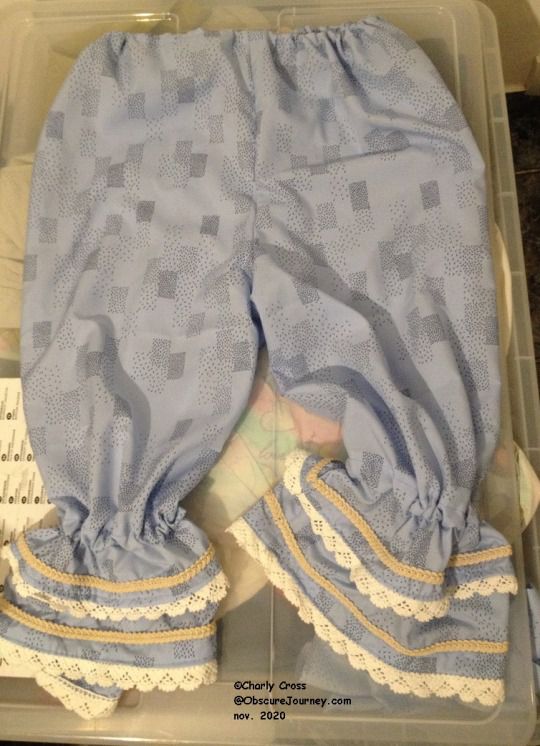 WHAT DID I USE
Fabric: As for fabric, I used some blue and very thin polyester fabric I had. Despite it being polyester, it feels quite nice against the skin.
Pattern: For the pattern, I had nothing "historical" or something made for a (Halloween) costume. I had this May 1996 Burda magazine that had a pattern I could use.
I needed some loose trousers with the simplest pattern possible. This one had just 2 pieces and was very loose. What else can I ask for?!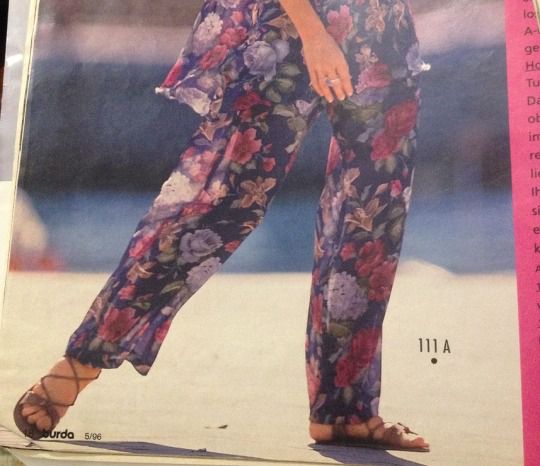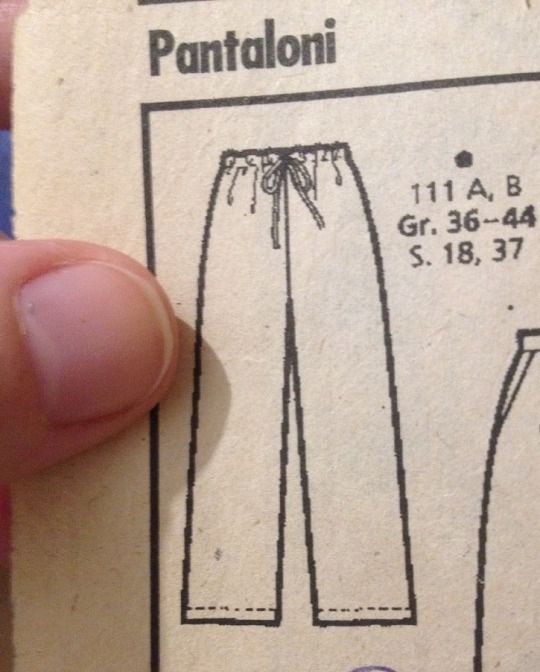 Other supplies: a pair of shears, matching thread, sewing machine, some elastic (not included in the picture), hand-made lace, and chord that i just had on hand. The lace and chord were either given to me or i may have found them at the trash.
The white lace is the remaining piece from what i had. Because it didn't occur to me to take pictures BEFORE i use it. Click here to see a close-up of the lace and the chord thing.
WHAT DID I DO
As you could imagine, first I had to trace out my pattern pieces and to cut the fabric. As a matter of fact, i wanted to make these Burda trousers for Anna, a while back. So i had the pattern already traced out and cut.
I only needed to cut the fabric. I folded the fabric in half, placed the paper on it, and cut with no seam allowance. This design is quite loose, therefore cutting with no seam allowance is fine. Otherwise, Burda patterns require you to add 1 cm (about half an inch?) of the seam allowance.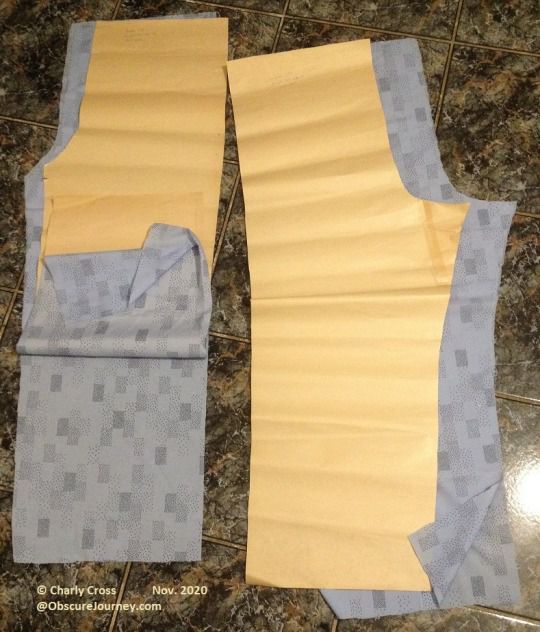 The next step was to sew 1 front piece to a back piece, then to sew the crotch. And at this point, you have a pair of trousers. I made a channel for the elastic at the waist, out of the pants - the design has a quite long crotch area, and therefore, you have plenty of fabric to just roll the top inwards twice for this purpose.
As you can see, my seam allowance is pretty small, but enough.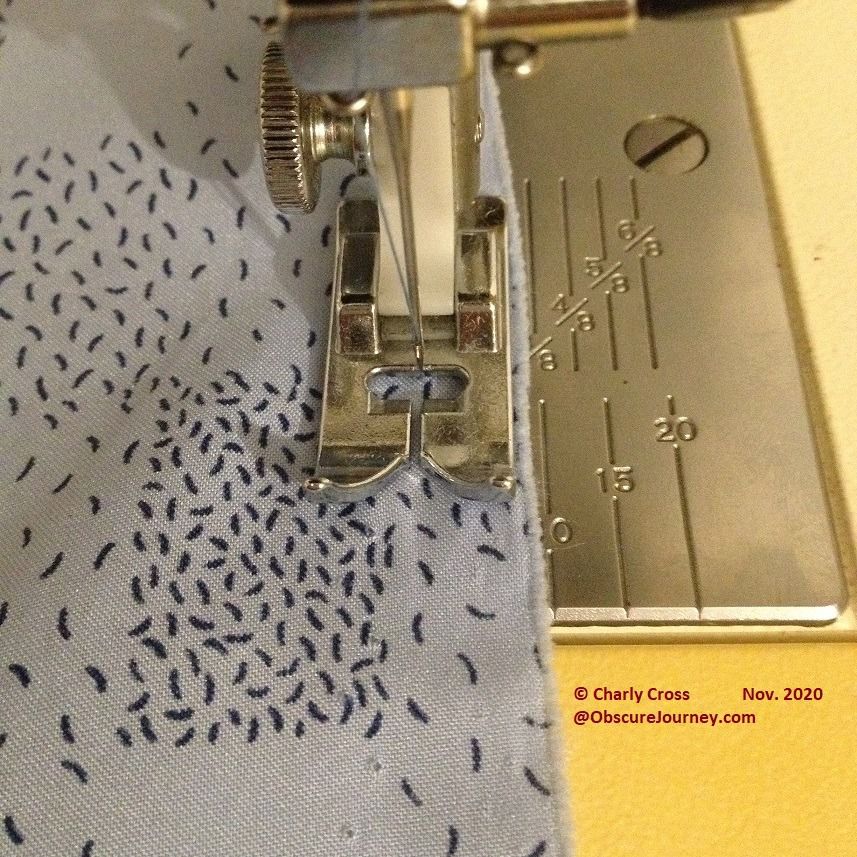 You can use elastic or a chord. This depends on whether you just want to pull the pants on or you want to bother to knot the chord, as the line drawing suggests. For me, the elastic was just SO easy!
And now comes the part where i made my first mistake which made things a bit more difficult for me. I constructed the trousers BEFORE i added the lace or formed those ruffles or channel for the knee elastic.
If you ever sew something, you would know it's easier to put ruffles on something when the item is flat/2D and not in a 3D shape. I think i would have been more accurate as well.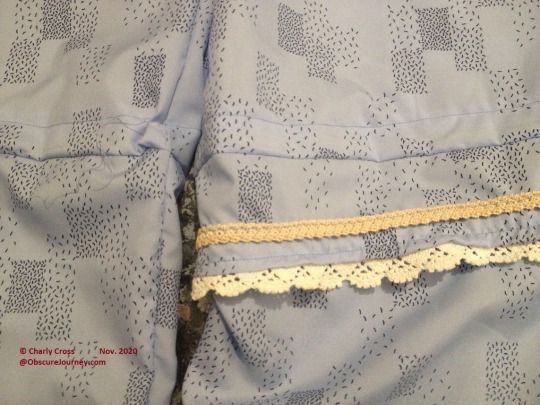 My next steps were as follows:
I measured about the place where i want the elastic to be, made the channel for it, eyeballed the place of the first ruffle, eyeballed the location of the hem, and completed the first leg.
I assumed that finishing 1 leg and then doing the second one would be easier. I'm not sure if it was or not, but it did feel that way.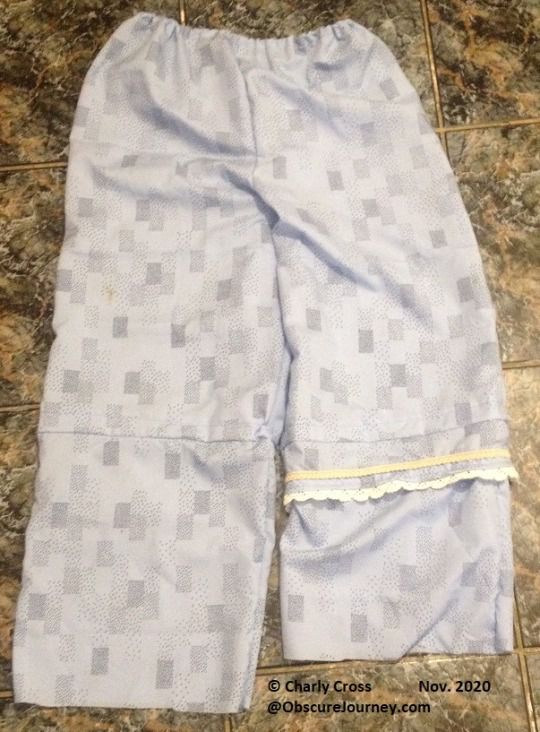 Another mistake was not to measure the white lace, to ensure i have enough. From my eyeballing, it looked as if i did have enough. By now, you already know my guess was correct.
However, while I was working on the project, i had my doubts when time came for me to complete the second leg. I suggest you measure everything ahead of time, unless you trust your eyeballing guess. I'm pretty good at guessing, and this is why i didn't do the sensible thing of measuring. But I shall in the future.
Once the ruffles and the lace were installed, the pantaloons were done! YAY! Now (as I type this), they're packed and hidden, as they're a gift for Anna. You'll be reading this after she gets her present, sorry.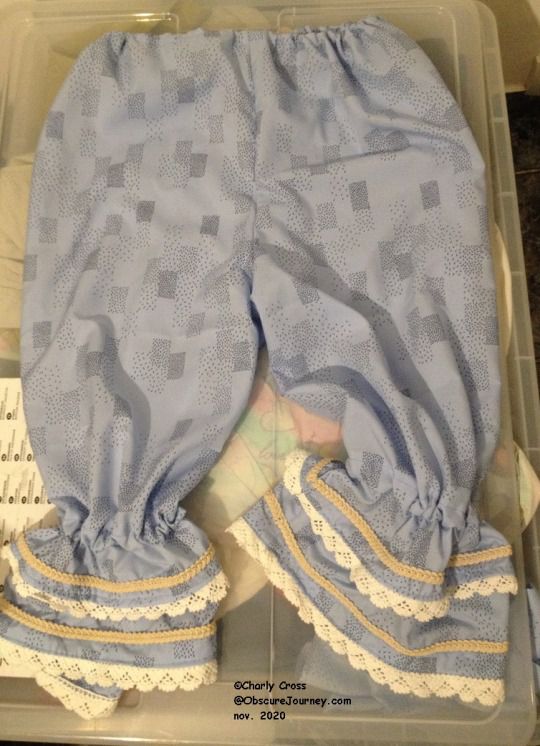 Previous Experience
What i want to also mention is that i actually worked with this pattern once before.
I made a pair of trousers for myself, last year in October. Back then, i used this pinkish silk fabric, that only later i realized it could be silk and i nearly fainted. I was either brave or decided to just go for it, and make myself some trousers.
That being said, this is how my pair turned out. There are many mistakes to be seen up-close. From further away, you can't tell.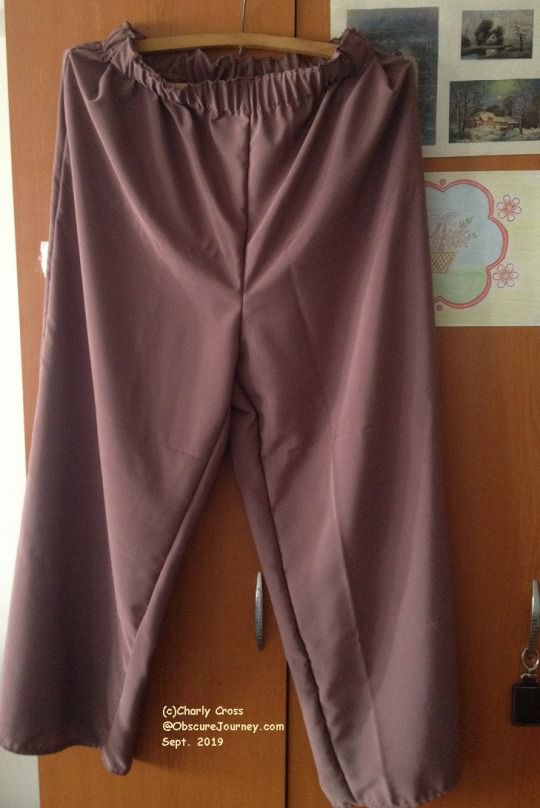 For Anna, I used size 36 -the smallest available and for myself size 44, the largest available. I chose the sizes based on our measurements, but i didn't measure the pattern pieces themselves to see how large the finished garment would be.
For my pair, i tried leaving 1 cm of the seam allowance. My pair is a bit too roomy. It's because of this previous experience with the pattern that i knew not to cut with a seam allowance this time around.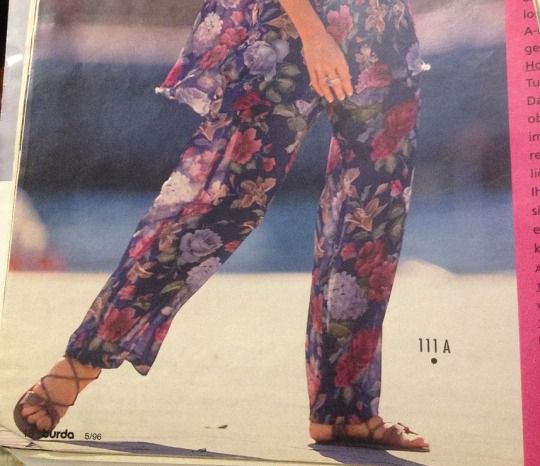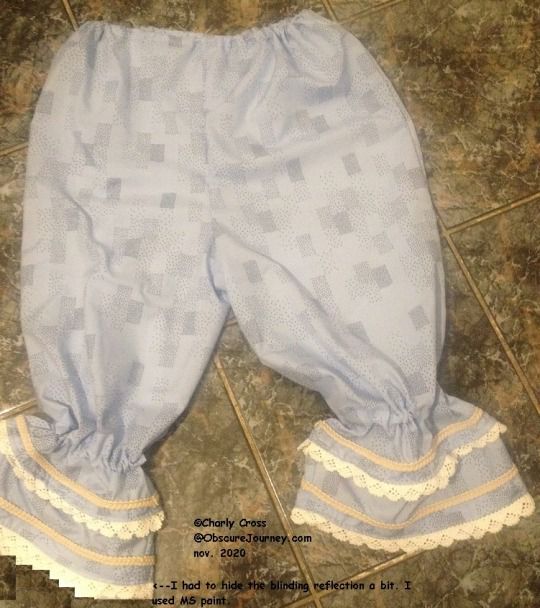 As you can see, the expectation VS reality hits again, hahaha. Don't ask about what i'm wearing - at the time i thought it looked OK. The top is also hand/home-made, but it's a hand-me-down, so i don't know the pattern nor fabric.
Yes, sadly, the picture with me is not complete, therefore you can't see these pants are a tiny bit short on me. But this is because I'm taller than most and the pattern is for regular-height persons.
© Charly Cross 2013 - present. All rights reserved.