This is the first entry for 2019, so happy new year! I will try to update you soon (fingers crossed) with how I managed to keep my last year's new year resolutions, and which are the new ones.
You know I have (paid) work to do when I start writing or doing anything else out of stress. .. as long as I can get some stuff done, I should be forgiven? no? only if I meet the deadline on Friday? I'll meet it. ;)
And now on with the recipe! First I have to tell you that this recipe first appeared on my old blog, back in March 2017. However, last night I re-made it and took more pictures, so I post this as a fresh entry, but with both old and new pictures.
They say spinach is very healthy for you, but not everyone likes it. I must say I REALLY like spinach for some reason. Too bad I'm not eating more of it, though.
I'll not go into why is it good for you, or give one hundred reasons to eat it. I'll just advise you to try new recipes for the foods you don't really like.. or better-said vegetables you like least. I'll share a rather simple recipe that hopefully will make you curious enough to try it out. Perhaps you'll even like it.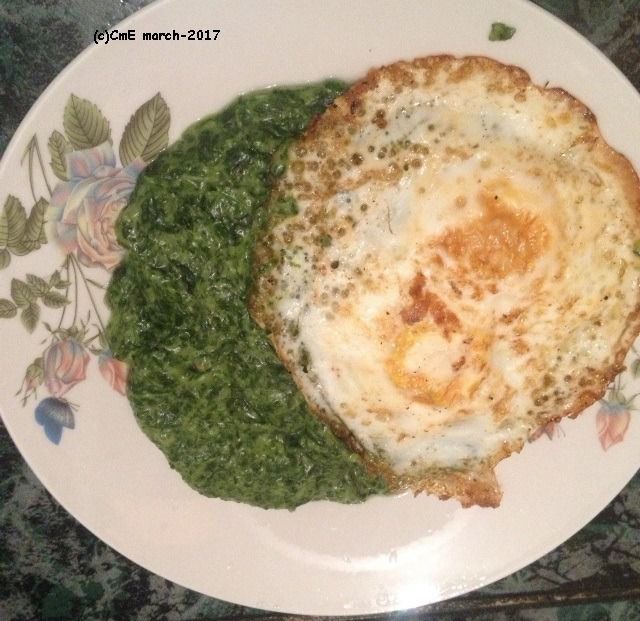 There is a bit of garlic in this Romanian recipe - in the original version which I want you to try. You probably know by now I don't eat or cook with onions or garlic, but I will share this recipe exactly how it is done - as I believe most of you will like it better this way. Let's say that you can easily get nauseous because of this food if you don't add garlic, and you can't use onion instead either.
INGREDIENTS: (4 servings)
1 kg (2 pounds) fresh spinach *
5-6 tablespoons oil
5-6 garlic cloves
3-4 tablespoons all-purpose flour
800 ml cold milk
salt [to taste]
8 eggs [2 for each serving]
METHOD:
Wash your spinach well, several times if needed. Make sure you have only nice looking leaves in there. [skip this step if you use a frozen product like me]
Boil it for a few minutes in salted water. It should look cooked. Strain.
Grab your wooden chop board and a non-metal spatula or spoon** and finely chop your spinach. [you'll skip this step for frozen products, as they might already be chopped]
Heat oil in a pot large enough to hold 4 pounds of food, as you'll add all the ingredients in here. Chop or mince your garlic*** and add it in to cook a bit. The garlic should become a bit translucent not brown (or the food becomes bitter) just enough to give some flavor.
Add your flour and mix well and wait for it to become a bit brown.
Add half of your milk and let it simmer for about a minute - you should have a white [thick] sauce at this point. Mine was a bit lumpy because I didn't mix/stir well enough. Avoid lumps in your sauce [if you can].
Add your chopped spinach and stir.
Add the remaining milk until you get the desired consistency. Don't forget to add salt. Let cook until it becomes steamy again. I personally didn't feel I needed etra milk.
OPTIONAL: add a teaspoon of sugar and vinegar (or juice from a half lemon). I didn't add these, so I'm not sure if it will taste better. Apparently, some older women cook it this way. ****
Fry your eggs sunny side up, and place 2 on each serving, and serve!
Bon-appetit!
You can also serve with fried chicken liver like seen below, but it simply tastes better with eggs. We eat fried liver in Romania - chicken and pork liver are most popular and delicious when hot!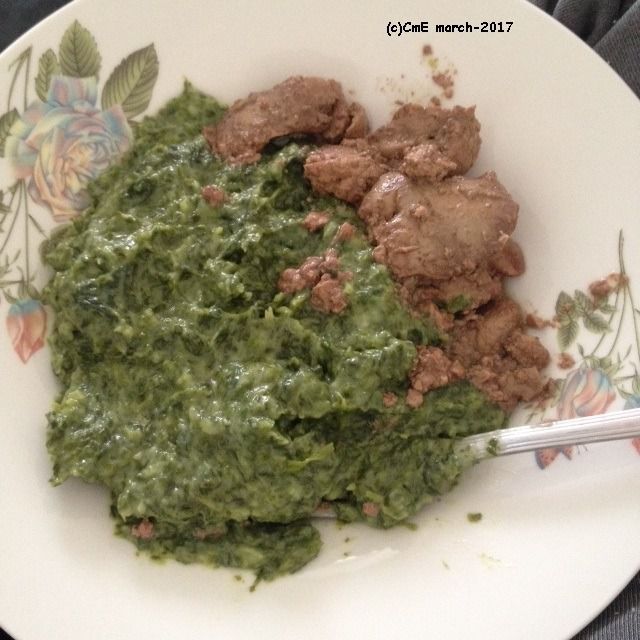 NOTES:
*I used frozen spinach because it is impossible to find fresh one in December, around here.
**we have special butcher knives made of wood or silicone.
***I'm not sure if there is a taste difference, but the idea is not to use the garlic cloves as they are.
****The first time around I didn't add neither lemon nor sugar. Last night I added lemon. I used the juice from half a lemon for the whole quantity of food.
© Charly Cross 2013 - present. All rights reserved.