Bucharest has a very goo public transportation system, this allowing you to reach any area you're curious about, with ease. There are many more bus routes compared to the routes of the trolleybuses, trams, and subway. They'll usually leave you right next to your destination or within walking distance.
So the easiest way of reaching Downtown is by public transportation and while I read that some countries have some bus routes free of charge, this is not the case in Bucharest. In fact ticket inspectors come to check your ticket quite often. The fare for one way, is 1.3 lei for the above the ground routes, no matter how far you go... I guess this is about some US .50 cents? If you're caught without a ticket, you must pay 50 lei (about 11USD).
Speaking of tickets, we don't use those anymore. Instead we have some cards that can be loaded with either trips, monthly passes, a combination of the two, or a certain amount of money (not more than 15 lei). They're the size of a regular bank card. To recharge, you need to find an open "ticket" booth - all of them accept cash in lei. Only some of them accept credit or debit cards. Below is a closed bus ticket booth near my [uptown] place - it used to close at 2PM and it's not opened on weekends.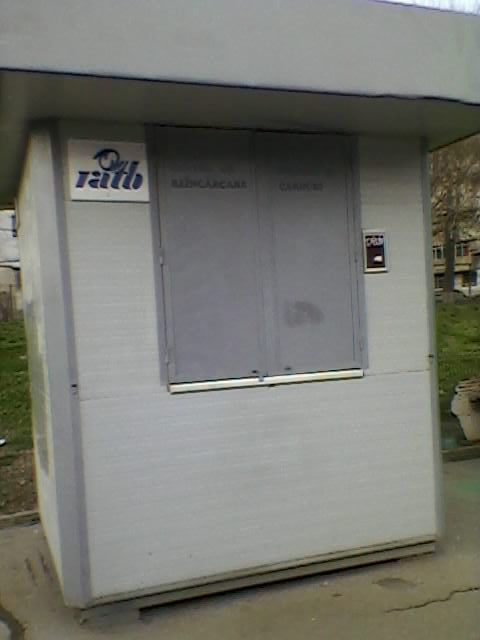 Let's be clear, a charged card doesn't mean you paid your fare for the trip, unless you have a monthly pass. You're supposed to pay for your fare as soon you get on the [trolley]bus or tram. All the public transportation vehicles have some orange machines like the one below and all you have to do is put the card as close as possible to its front and dark circle. A green light and a BEEP will tell you you've been successful. A really loud and long BEEP with a red light will tell you an error occurred and you have to try again. Multiple charges are not possible by default, but you can pay the fare for others that are with you. This is done by pressing the button labeled 2 for as many times as possible.
from instagram: 2nd pic by @eduardintaiul [that's not the bus card]. 3rd pic by @nr137. 4th pic by @dracon1312.
As you can see, there is a screen too where various messages are displayed in Romanian. If you were successful in paying for your trip, you should be shown how much money is left on the card - sometimes the message is too fast. Sometimes, error messages are shown, like in the 3rd picture above and this usually means you can't even attempt to pay for your trip.
It seems RATB [the company operating the public transportation above the ground] likes to repair their machines with tape. They still work though.
If you go out late in the evening, you might risk not having a ride back. However, we have a few night buses go all over the city every 30 minutes, but not between 1 and 3am. The fare to ride them is the same as for the day routes. Make sure you get in the correct bus: the N123 bus for instance will not go to the same place as the daytime123 bus!
This article was edited on Feb 16th, 2018, but originally posted on September 10th, 2013.
(c) Charly Cross 2013 - present. All rights reserved. Pictures are mine, unless stated otherwise.