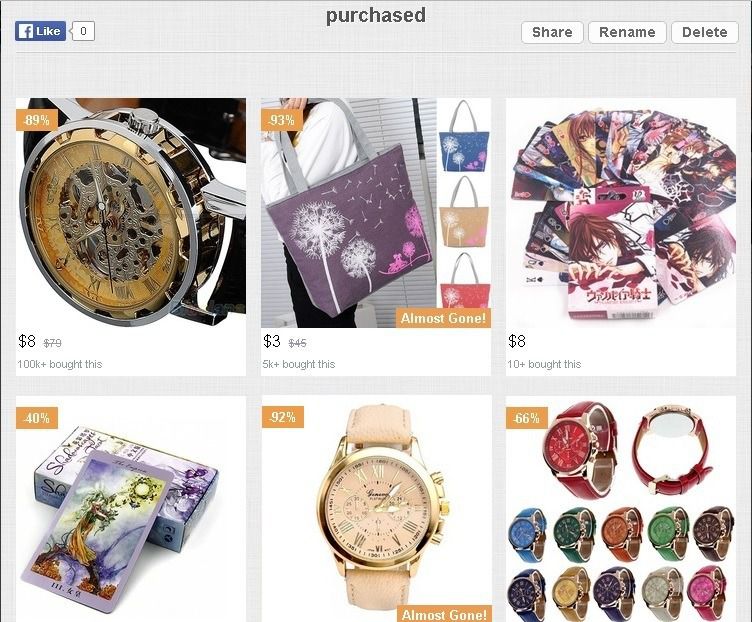 Online shopping is good, as long as you don't buy clothes, shoes, or expensive electronics. You must pay attention to what others have to say about the seller too, to see if you can trust - but even then, you can get cheated.
This site wish is easy to use, you can sign up using your gmail account or even your facebook account. I paid with paypal, but I think credit/debit cards are also accepted.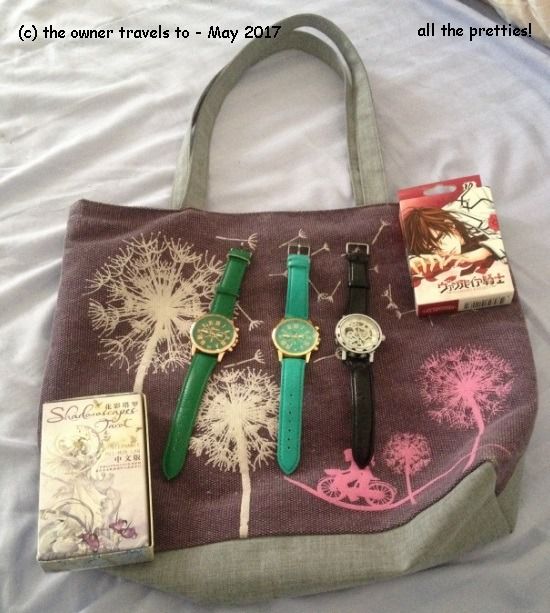 This is what i ordered - a tote, 3 watches (!), a deck of regular playing cards, and a tarot deck. I also ordered a bra for my friend - it fits her, but i will not show the actual product, and a whetstone to sharpen knives - it never arrived :(
This is the Shadowscapes Tarot deck, translated into simplified Chinese, i believe. The English card names are at the top of the cards. There is one typing error on one of the cards "nice of cups" instead of "nine of cups, " which i find quite funny, especially since this is a good card to get in a reading. The typo is barely noticeable, so it doesn't bother me.
There are 2 extra blank cards included - I guess I can use them in case I lose one. As you can see the cards are quite long, so normal hand shuffling is a bit difficult. Maybe my palms are too short?
My other card deck is a playing one. But the images are with Vampire Knight, as you can see. Vampire Knight is a manga [Japanese comics] by Hino Matsuri. The cards are quite small compared to the tarot. Shuffling them is so easy!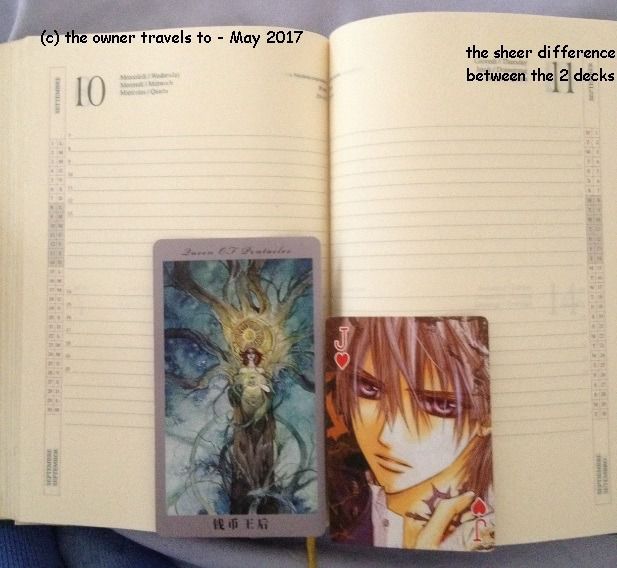 I must admit, when i got them, i thought they're bigger - before opening them up. I was quite impressed that they were sealed in plastic - the tarot wasn't. Once i took them in my hand, i thought they're really cute because of how small they appeared.
I didn't use them, but I assume in dim light, it will be difficult to tell which card is which, so probably if you ever get your hands on a similar deck, play your games in stronger light.
So these are the watches I got. Why 3? well, i have a small obsession for watches. I have 4 of them in total. One - the first I ever got, is a Michael Kors. [I can't really remember where it is] I'm not wearing it because it needs a battery and it had a small accident, and lost a decorative plate. I'm pissed about it - I still have it, but I have trouble putting it back with glue it doesn't stay.
These watches didn't arrive all at once, though the green ones have been ordered at the same time. The lighter green one was supposed to be more blueish. but the green one looks amazing! The first one to arrive was the one with a black bracelet. It is a mechanical one - the reason I got it. The other 2 cost me $1 each, and $1 shipping for each. I really liked the design, even though they require a battery.
The seller was nice enough to send them with a battery in AND with the hour set for Romania! how cool is that?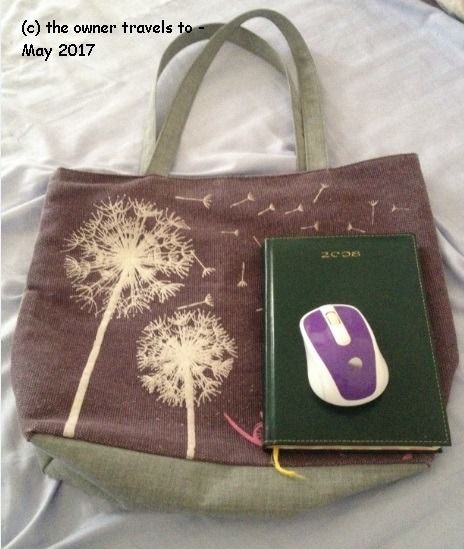 The tote is not as big as I thought it would be. I can fit a 15" laptop in it, if i put it with the narrow side in. And it doesn't go in all the way - but I rarely take my laptop with me, so that's fine. It seems well done, though the sewing could have been more straight - in places where it is noticeable.
I like that it has a small inner pocket. The front is purple, and the other side is gray, like the handles and the bottom. The handles are long enough to allow you to wear the bag on the shoulder.
The mechanical watch was the first to arrive, after some 3 weeks. I thought i will never get to see my tarot deck nor my playing cards - they arrived quite late. The bag also arrived quite fast, but i forgot how fast. I also forgot how fast the other items came, but the 2 green watches arrived 1 week apart - shipped separately, though the seller was the same.
Speaking of sellers, there are many sellers on wish, just like on ebay or etsy. The prices can change from one day to the other, but they're generally low. If you know me, you'll know these items were cheap - since I hate spending money on expensive stuff.
site pictures VS real item pictures
There are slight color differences between the real life items and the image you see provided by the seller. The light green watch was the biggest offender, but since i like green, I'm not complaining. My light, though natural, wasn't the best to take pictures. The tarot deck is less intense, much more pastel. As for the mechanical watch - just like with the others, several colors were available, that's why mine is not golden.
Sadly, if you have a problem with your item, the customer support is from wish, and it is not the seller. you might also have the "luck" of talking to someone who doesn't speak English well. You have 30 days for returns or refunds. This means i lost whatever I paid for my whetstone.
This is all for now. See you again next week!
---
©Charly Cross 2013 - present. All rights reserved. edited in march 2018