Seaside adventures in August
We wanted to relax for a bit and get out of city. Since we have Ciel we can't go on a vacation like most people: Ciel needs someone at all times and it's not familiar with strangers. He also barely eats by himself.
We decided to leave for the seaside in the morning and return at night. With all the preparations I still had to return to get a scarf I forgot. When we got to the train station we learned the train would be 45 minutes late, but in reality it was an hour late.
While we waited, we got some pretzels for the road, as to avoid spending a lot of money on food.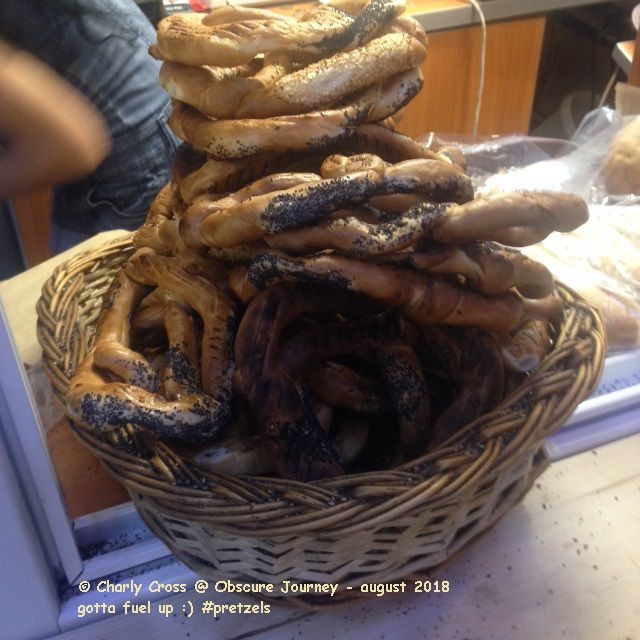 The train was also over sold so we had to stand because there were no more seats available. Luckily A found a chair in first class and sat for most of the ride. Our tickets were for 2nd class. The train was also fast and had some air conditioning.
When we got to the resort, we found the beach quite fast. We had to find a seat as this was one of the most popular resorts at the seaside, so it was packed!
Here, we have too pay for chairs and umbrella, but not if we sit directly on the sand. However, we need umbrella and they're only available next to the chairs. The price was some $6 for a chair and they only take cash. The guy charging for the seats was gypsy and we suspect him off having stolen my phone.
I had the phone on me some 5 minutes before finding the right place, and I noticed it gone after the guy left. I also kinda felt something.. Like something was sliding up at the back of my pants, but I ignored the feeling.
The guy returned to see if we found cash, and in telling him we don't have cash, just the card, he started to be verbally agressive. Then we openly accused him off stealing, and he insulted us. We left and I managed to use A's phone to lock mine. Then I asked a to text my phone and ask for it to be returned. A lifeguard called us and met A and returned the phone. But! The lifeguard had no business to be in the place where it went missing. I literally walked between other chairs and the lifeguard has no reason to do so. Here claimed he found it.
I think the phone was returned because they couldn't use it or resell if it was blocked. I'm glad I have my phone back, but I lost some videos I took in the train, for I also erased it's data.
In the end we managed to find some other chairs and we didn't pay for those. We stayed some 2 hours there I think.
We managed to go in the water and it felt nice as it was warm, despite the rather dangerous waves. Lifeguards were constantly on the lookout for people going too far and calling them back. The limit to the deep water was set pretty close to the shore too.
We found a place to eat and rest and recharge the phone a bit. Then we went on the beach again. This time we went in a different area and were forced to pay for chairs as there was no sand, just smashed seashells that were cutting into our feet. We spend some extra 2 hours there with constant visits to the shore. Of course I collected some seashells too.
Then it was time for us to return. Before leaving, we bought a bag, some sun glasses for A's mom, some sewing needles for me, a rabbit keychain, and some bracelets.
The return train had seats for us, but it was smelly! There was little luggage space too though we only had 2 bags and As purse. The trip was also longer and most of it happened in the night. There was a really beautiful sunset though. Once in the city, some 3 hours later, we managed to catch the last bus home too.
I fell asleep as soon as I got home, after checking on Ciel and seeing he actually ate by himself. He does that when he stays alone for too long.
© Charly Cross 2013 - present. All rights reserved.