How To Enlarge a Tshirt - DIY, Upcycling, Color-blocking
Hello!
Today I have a solution for old clothes that don't fit anymore, and thus they sit in the closet, collecting dust. This solution will save your wallet, give a new life to both your clothes and wardrobe, and create a unique personal style, because YOU ARE unique!
Most clothes that we buy come in standard sizes. They assume that if your hips measure 100cm, then perhaps your waist is around 80 or 90 cm. This is not always the case. they make clothes in standard proportion, but our bodies are not always proportionate.
My body for instance, is as much as an hourglass as it can, hence there's a significant difference between my waist and bust, and waist and hips. However, if it wasn't for my chest, i could fit into tops that are sized Small because my rib cage is pretty small.
So, back to topic. I had these 2 tshirts you can see below, but i can't wear them. The light green one is too transparent for my tastes :( The other one was extremely tight.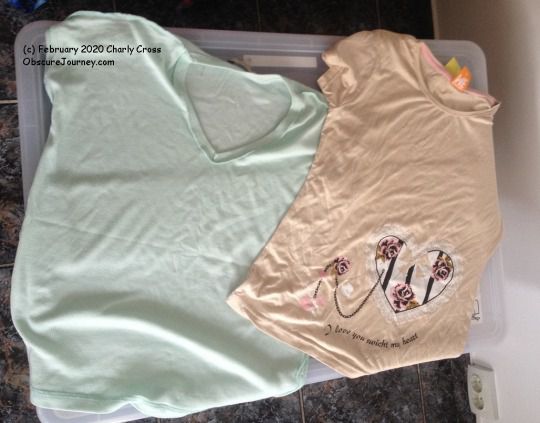 I liked the beige one more than the greenish one, so i wanted to wear that one But i had to be larger.
I measured it against a tshirt with a fit that I liked. In my case, i needed about 32cm more fabric.
The idea was to find strips of fabric that were 16cm wide, cut the side seam on the beige tshirt, and attach the strips to the new edges.
This is where the greenish tshirt came in handy. It provided it side seam, already had hems, and was a very similar fabric to the other one. At least in weight -very light weight, and feel - very soft and comfortable, breathable.
I measured, marked, cut and proceeded to sew. the pieces in. I measured 8cm on each side of the greenish top. Since it's already folded, 8x2=16, 16x2=32.
I think i should have used straight strips of fabric, and not the seam sides of another tshirt with a different cut. It turns out, the greenish fabric was somehow loner than the beige tshirt. I had to create some pleats, to make them match.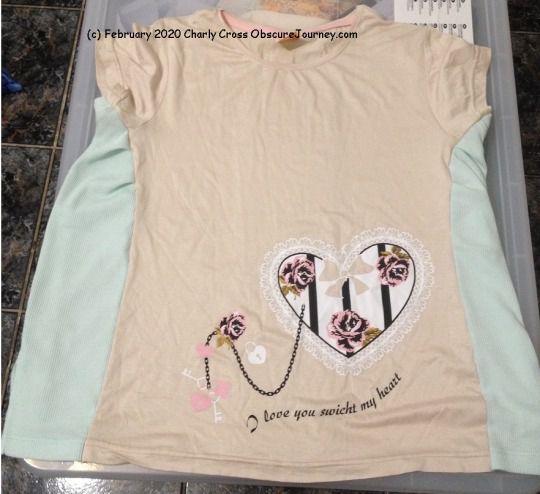 When laid flat, the new tshirt looks off, but on me, it looks ok.
So, to make it easier, the steps are:
1. find out how much room you need - measure your top and measure your body, and see the difference. OR, measure the smaller top against another one that fits good. substract the smaller from the bigger, and that's how much fabric you need (it's width).
2. the easiest method would be to insert strips at the side seams. divide the width from above by 2, since there are 2 side seams in a top - the ones going from the armpits down to the waist and to the elbow/wrist.
3. find a similar weight fabric or texture, and cut 2 strips equal in width - the value from point 2. Add some extra for seam allowance. Ideally, these strips would be the same length as your top, but feel free to be creative here. Don't forget about the hem on the lower part and at the sleeve, so they might need to be longer than your top.
4. cut the side seams of your tshirt.
5. sew the strips of fabric to the open edges of your top. And you're done!
© Charly Cross 2013 - present. All rights reserved.