Restrooms in Bucharest - clean? unique?
All living creatures have needs, and being able to take care of them is important. We clearly generally know the type of public toilets we can come across in our home-towns. But how about when we're abroad, or in cities we don't know?
I obviously haven't been in all public toilets in Bucharest, but I have been in quite a few, and I can give you a few tips of where to go if nature calls.
First of all, people can find public (and eco-) toilets on the side of the street. They're not the best thing to walk into, as they smell and are quite small, however if nature calls and you can't take it anymore, they'll have to do.
The picture below is the toilet my grandparents used to have, in the countryside, near Bucharest. They recently revamped it, to look a bit better, but I haven't been there yet to see it.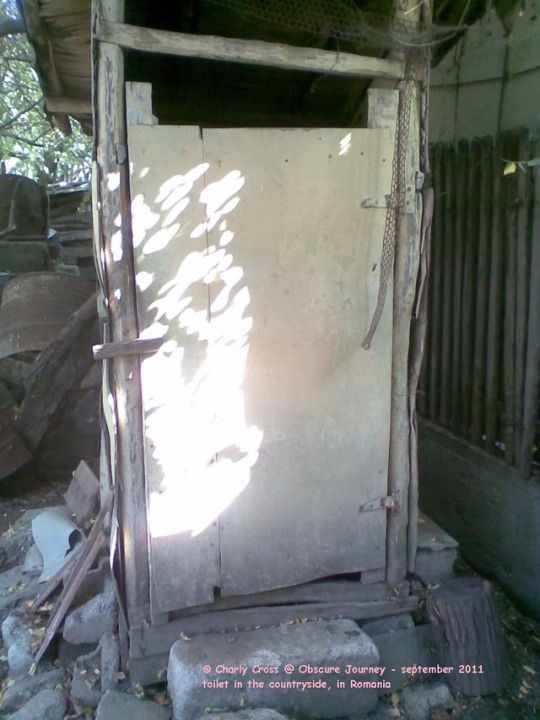 Traveling in the countryside, you might have to use one of this type of toilets. people there don't have running water, nor a sewage system.
Next public toilets in which you can just walk into are the ones in the shopping centers and malls. In my experience, these can be a hit or miss when it comes to cleaness and smells. There are cleaning ladies doing their job on the clock, but sometimes they get overwhelmed as well, or maybe the toilet gets flooded.
Overall, these toilets are cleaner than the ones on the side of the street. Many of them have a pretty standard design. While some have a rather unique design. For instance, one of the malls that opened quite recently, has an upside-down design, if i can call it that. When i walked in it, i thought i went to wonderland.
Retro looking sinks and other elements were attached to the ceiling while the fittings you were supposed to use were modern. I believe there were actual toilet seats inside the stalls, hanging from the ceilings, that were fitted into lamps. I surely got dizzy, and expected to fall at any moment, but luckily it didn't happen. Surely this was on purpose, and the feeling I got was because it's not normal to see on the ceiling stuff that are usually on the floor.
If you're going to a cafe, restaurant, or bar, toilets are generally even more clean. They can also have a more unique design. For instance, the restroom at Starbucks coffee in Unirii Square has a really nice look. See the pictures below.
The first sink is found before entering, and I like it more than the others inside. The wall decoration is really cool too.
Some locations have more stalls, while others have just one for each gender. There could also be a situation where both genders have to use the same toilet. Well, whoever needs to use it will have to wait for their turn, of course.
Do's and don'ts in a Romanian public toilet
Do expect privacy: the doors are generally hitting the floor and there is no space between the door and it's frame.
Do expect to be able to lock the door the stall. We don't like to have to hold the door with our hands, though it could be helpful at times.
Do expect to find toilet paper. The Eco toilets might not have it though.
Do check to see there is topper paper in the stall, before you do your business.
Don't throw the used toilet paper in the toilet- there are small trash bins in the stall for it, or whatever other trash you have. The toilet can get flooded if TP it's thrown in it. Some people don't follow this rule and flooding and smells happen as a result.
Don't under any circumstance sit on the toilet, nor climb it. You can sit if you have weak legs, but put some TP on its edge.
© Charly Cross 2013 - present. All rights reserved.