Publié le 16 Novembre 2013
Hello world~~
My friend showed me the recipe for these doughnuts on a local website and since I had all the ingredients, I figured I should try it out. The best part is that they're done so fast, you don't need to wait for the dough to raise, and they're so yummy and light! You'll want to double the quantities the 2nd time around, hehe ;). You probably won't believe me, but even a 14 year old boy made these, or it was him sharing the recipe. The pictures are mine.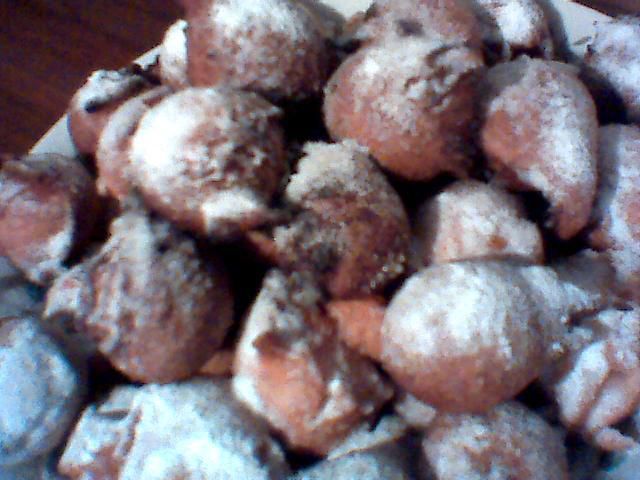 INGREDIENTS
200 grams yogurt
1 egg
3 spoons sugar
some baking powder
1 pinch of salt
150 grams flour
1 Tbsp lemon peel – lemon essence works fine too.
METHOD
Beat the egg.
Add all the yogurt and mix well.
Add the sugar and mix well.
Add the salt pinch and mix well.
Add the lemon peel and mix.
Add the baking powder and mix for 1 minute.
Add in all the flour and incorporate well.
The dough should be a bit thicker than the mayonnaise. Softer dough will make rounder doughnuts, while a more think one will turn into funny looking doughnuts. My doughnuts had softer dough, thus they have a more regular, ball-like shape. This is the time to adjust the sweetness, by adding more sugar if you so wish. At this point I added some grounded nuts.
Heat up the oil in a narrow pot, and with a teaspoon drop dough in there. Pay attention so that the doughnuts turn golden brown on all the sides. When they're done, just sprinkle with confectioner's sugar, chocolate syrup, or anything else you prefer for more yummyness.
Bon appetit!
© Charly Cross 2013 - present. All rights reserved.
entry edited in May 2018. all pictures are mine.